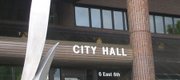 Subscribe to the email edition of Town Talk and we'll deliver you the latest city news and notes every weekday at noon.
News and notes from around town:
• As we've reported several times, Sears is on the way out in Lawrence. But what we haven't known is a closing date for the store at 27th and Iowa streets. Well, store employees now are telling customers that April 8 is the date that Sears officials have tentatively set as a closing date.
But that may not be the end of Sears in Lawrence. Sears ran an ad in Sunday's Journal-World seeking individuals interested in owning their own Sears Hometown store. I caught up with the Sears representative who oversees Sears' Hometown store program, and found out a bit more.
Gerald Huston said a Sears Hometown store is a smaller version of a Sears full-line store. The store carries lawn and garden equipment, major appliances, and Craftsmen tools. Mainly what the store does not carry is clothing and some of the smaller appliances. The other big difference is that the store is privately owned instead of owned by Sears. But it is clearly a partnership type of operation. Sears handles all the cost of providing inventory and advertising for the store, Huston said. The owner takes care of employee costs and rent.
As for a location, Huston said he was in town earlier this week scouting out possible locations, but he also wants to hear if potential owners have specific locations in mind. If all goes well, Huston said he hopes to have a store open by May.
There are about 900 of the Sears Hometown stores across the country. The closest such stores to Lawrence are in Ottawa and Atchison, Huston said. People interested in becoming an owner of a Sears Hometown store, should have about $25,000 in cash that they are prepared to invest upfront, and also have a personal net worth of $100,000 or more, according to the advertisement. People interested in expressing interest to Huston should contact him directly at gerald.huston(at)searshc.com. (Replace the at with the @ sign. Just trying to prevent some spam.)
• One location I'll be keeping an eye on is the Sears building itself at 2727 Iowa. I believe there is a lot of activity going on behind the scenes at that 85,000-square-foot building, and I'm fairly confident that Dick's Sporting Goods is involved in much of it.

I heard recently from an investor who had a strong interest in purchasing the building from the Sears/Kmart conglomerate that owns the building. But what I've heard is that Sears has had so much interest from potential tenants for the building that it has decided to keep the property and simply serve as a landlord. Whether they'll try to put their Sears Hometown store in there, I don't know. But what the investor told me is that Dick's Sporting Goods is a name he was told that was interested in the location. Dick's normally has stores about 50,000 square feet or less, so that likely would leave room for another retailer or two. I still haven't heard anybody who has said they have direct knowledge of Old Navy looking for a new space in town, but the commercial real estate agents I talk to said they would be surprised if Old Navy doesn't want to be in this college market.
As for other names, there are some out there. The one I'll pass along today is Big Lots. Again, I don't have anyone who says they have direct knowledge of Big Lots trying to swing a deal for the Sears building, but I do have people who have confirmed Big Lots has had an interest in the Lawrence market in the past.
• If buying a Sears building isn't exactly your style, maybe buying a piece of Kaw Valley bottomground is. It is certainly becoming more fashionable. As I've reported previously, the agricultural land sale market is becoming more active in the area. As a result, there is a new real estate company in town that is looking to focus on rural land sales. Kelvin Heck, a longtime commercial real estate broker with Colliers International, has started Heck Land Company. Heck will continue in his current position with Colliers, but he told me wanted to start his own company in order to provide a little different focus for land sales involving farm, ranch and recreational properties.
Heck said the idea also appealed to him because he has a pretty strong connection with the Kaw Valley. Heck grew up on a farm northeast of Lawrence on a farm homesteaded by his great-grandfather, and Heck was in the farming business before he got into the real estate business about 25 years ago.
The land market should be an interesting one to watch. A few months ago, Heck told me that Kaw bottomground was averaging about $4,500 an acre in many of the sales he had seen. That's a nice bump from a few years ago, but it is nothing compared to what is going on north of here. Here's a very interesting article from the Reuters news service that talks about how the tiny county of Sioux County, Iowa, is "ground zero" for the agricultural land boom. Auction prices for land have been steadily rising, and recently an auction brought more than $20,000 an acre for crop land. The article also notes that land prices in Nebraska have seen significant increases. The article states that land prices in eastern Nebraska jumped by 40 percent in the third quarter of 2011, and have risen another 3 percent to 5 percent since then.
It brings up the question how far south will this trend spread? Originally, I had thought the Iowa effect wouldn't have much impact in Kansas. I figured the land that was booming in Iowa was the super prime ground along the Mississippi River. But that's not the case. Sioux County is on the western edge of Iowa. Its prime farmground is located along the Big Sioux River. Is there a tremendous difference in soil quality between the Big Sioux and the Kansas River? I don't know. The article also notes that the county seems to be benefiting from what is considered a dirty phrase by some "climate change." The weather data over the last 30 years indicates the county is going through a period of cooler summers and wetter weather, which has been good for corn.
Of course, the article also notes that there are plenty of people worried about a major land bubble, and the mess that would be created if such a bubble burst. There is some hope that it wouldn't be as messy as the 1980s because it seems more land purchases are being made with cash instead of debt.
But still, a land bubble could be a huge one. According to an article by Drovers Cattle Network, the U.S. Department of Agriculture recently released this statistic: Of the 2.3 billion acres in the United States, about 45 percent of it is classified as cropland or pastureland. The two categories accounted for 1.02 billion acres. Urban land, in case you're wondering, accounted for just 61 million acres.
Copyright 2018 The Lawrence Journal-World. All rights reserved. This material may not be published, broadcast, rewritten or redistributed. We strive to uphold our values for every story published.