Photo Gallery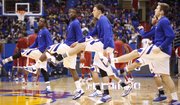 KU vs. Oklahoma
Press Conferences & Post-Game Interviews
KU coach Bill Self
Kansas coach Bill Self talks to reporters following the Jayhawks' 84-62 victory over Oklahoma on Feb. 1, 2012.
It had been awhile since Oklahoma coach Lon Kruger coached a game in Allen Fieldhouse, and his return to Kansas University's home arena undoubtedly brought back a flood of memories before tipoff.
But by the time KU's 84-62 victory over the Sooners had ended, the freshest memory on Kruger's mind was of his team's 72-61 loss to Kansas on Jan. 7 in Norman, Okla.
"It seemed similar," Kruger said. "We opened the second half down there in pretty similar fashion to what we did here. We had a couple careless ball-handling situations that resulted in transition points and dunks on the other end that got them going. So it seemed to have a little similar tone."
And both runs spelled doom for the Sooners.
The first time around, Oklahoma actually led, 34-33, at halftime but watched the Jayhawks claim control with an 11-2 run that gave them an eight-point edge that grew to as many as 22 and never fell below six.
A 20-6 run to open the second half Wednesday night turned the Jayhawks' 34-31 halftime lead into a 54-37 cushion that cleared the way for the easy victory.
KU starters Jeff Withey, Thomas Robinson and Tyshawn Taylor all recorded points in the paint during the decisive run, and Kruger's team had no defense but the timeout. The first-year OU coach, who coached four seasons at Kansas State in the late 1980s, burned two timeouts during KU's explosion. To no avail.
"They got six quick points, which was not the way we wanted to open the half," Kruger said. "So we just reminded our guys to stay with the basics and go back to the things you try to focus on every day in practice. I thought we tried, but our sloppy play offensively just gave them too many opportunities. And they are so good that they don't need the extra help."
Kruger said he felt his team's careless mistakes gave the Jayhawks energy and life that OU had stolen away with a 12-4 run to close the first half.
While the Jayhawks were having an easy time on the offensive end, their defense was doing a number on the Sooners as well. OU shot 41 percent from the field, including just 38 percent in the second half. OU guard Steven Pledger, who led the Sooners with 10 points in the first half on 4-of-6 shooting, made just two of seven shot attempts in the second half, and proved to be a symbol of the Sooners' second-half frustrations.
"He kept it physical all night," Pledger said of KU defender Elijah Johnson, who traded turns with Travis Releford in checking OU's leading scorer.
As for OU's attempts to stop KU in the halfcourt, they entered the game believing they knew what player-of-the-year candidate Thomas Robinson had in him. But Robinson eclipsed his totals of 18 points and nine rebounds in Norman by exploding for 20 points and 17 rebounds Wednesday night.
"Taking on a guy like Robinson is a great opportunity and experience to grow from," a diplomatic Kruger said.
OU junior Romero Osby, the one given the opportunity to grow, had a slightly different point of view.
"He's an All-American candidate for a reason," Osby said. "He's big and strong. He does a good job of positioning down low and shielding people off with those shoulders he has. He's a great player."
Copyright 2018 The Lawrence Journal-World. All rights reserved. This material may not be published, broadcast, rewritten or redistributed. We strive to uphold our values for every story published.