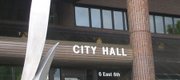 Subscribe to the email edition of Town Talk and we'll deliver you the latest city news and notes every weekday at noon.
News and notes from around town:
• There's now a place in town where you can get everything from elubo (which is, of course, yam flour) to bottles of jerk sauce (which is, of course, similar to the nickname my wife has given me). And, oh yeah, you can also get your laundry done at this place. What in the name of holy cassava (the root of a woody shrub that can serve as a potato substitute) am I talking about? I'm talking about a new business founded by a man who obviously believes in the power of diversification. Nigerian native Soji Babalola recently has opened African Caribbean Grocery & Gifts and . . . Suds Laundry Service at 1530 W. Sixth Street.
Babalola has been in Lawrence for the past 21 years, and he said he's long noticed that most members of the African or Caribbean communities travel to Kansas City to get authentic ingredients for their food. When Babalola decided he wanted to try his hand at owning his own business, the grocery idea stuck with him.
"We feel like the money in Lawrence should stay in Lawrence," Babalola said.
The store carries a variety of packaged products — such as the jerk sauce and a whole host of Caribbean seasonings. But it also carries some fresh produce including a variety of yams, which can be a big part of African and Caribbean cuisine, taro root and even white sweet potatoes. Also on the shelves are various dry ingredients such as cassava flour, elubo, garri (a type of fermented mash made from cassava tubers) and semolina, a wheat product used in making pasta, couscous and other words that I likely would misspell.
As for the Suds Laundry Service portion of this business, that also is unique. The business is not a Laundromat. Instead customers either drop off their laundry at the location or arrange for Babalola to pick it up. The business then washes, dries and folds the laundry for you. The business offers door-to-door delivery, if you don't want to come to the shop. (I wonder if they would put my socks in my sock drawer for me. My wife always yells at me about that. In fact, I think that is when she first used the nickname.)
Prices for the laundry service start at about $1.20 per pound. Babalola said the business plans to target students, and also businesses such as medical offices, restaurants and other locations that have employees who wear uniforms. The business is in the shopping center near Sixth and Minnesota streets, which includes the Subway and the Great Clips. But beware, Babalola's shop is actually on the lower level and on the east end of the building. It faces Minnesota Street, not Sixth. Hours are 10 a.m. to 7 p.m. Monday through Saturday, and 1 p.m. to 5 p.m. on Sundays, although appointments for the laundry service can be made for about anytime.
• If you have been following the school consolidation discussions, you know one of the options up for discussion is building a new school on property near 15th Street and Haskell Avenue. In particular an old farmstead at the southeast corner of 15th and Haskell has been mentioned as a piece of property that could be combined with property owned by the Boys & Girls Club to build a school that could house more than 400 kids.
But the owner of that home at 15th and Haskell — David Frayer — made it clear to the Journal-World back in December that he doesn't have any interest in leaving his home to make way for a new elementary school.
"I'm not sympathetic to it, and I like my place," Frayer said back then. "I don't know what they can do to force me out, but it'd be a hassle."
Well, now it looks like Frayer is doing what he can to shore up his case that his property should be spared, if it comes to that. Frayer has filed an application with the city to have the approximately 5-acre piece of property added to the Lawrence Register of Historic Places. The application says the property has been known as the G.W. Smith, the F. Kibbee, and the C. Altenbrand farms at various points in its history.
The property includes a 1904 Dutch Colonial home that still includes "pumpkin pine wood floors," leaded glass windows and its original five panel wood doors. The property also includes a 1912 wooden barn, and a concrete ice house.
Frayer said in the application that he has taken pains to keep much of the property true to its origins as a Lawrence farmstead.
"There are few other properties preserving a small farm in Lawrence as it was through the 20th century," the application states.
The city's Historic Resources Commission will consider the application in the next month or two, and I believe city commissioners also must approve it. The historic designation, I believe, would make it likely that if the property were to ever be torn down it would have to go through an extra amount of process at City Hall, which could make for an interesting vote at City Hall on some Tuesday night.
If it ever comes to that, the old home and the barn won't be the only structures at risk. According to the application, the property also includes a "nonfunctioning two-seater outhouse." Wow, two seats. It was a friendly farmstead.
• One seat or two seats has not been the point of contention when it comes to a proposed hotel/apartment building for the southeast corner of Ninth and New Hampshire streets. The height of the proposed building has been creating concern for neighbors immediately east of the site.
Well, I don't have anything concrete to report to you yet, but I believe the development group that has proposed the project is rethinking how tall the building actually needs to be. If so, this would be the second time the development group has modified the design to try to please neighbors. In early December, the group — which is led by Lawrence businessmen Doug Compton and Mike Treanor — agreed to reduce much of the eastern edge of the building from five stories to four stories. Much of the western edge of the building along New Hampshire Street would be six and five stories tall. I'm checking around to get some details firmed up about how much of a height reduction the group may be considering.
It will be interesting to watch. Would neighbors drop their objections if the building were five or six stories tall along New Hampshire Street but three stories tall on the edge closest to their homes? That isn't clear. But what does seem to be clear is that developers are still very much interested in moving forward with the hotel/apartment project. I'll update you when I can.
Copyright 2018 The Lawrence Journal-World. All rights reserved. This material may not be published, broadcast, rewritten or redistributed. We strive to uphold our values for every story published.