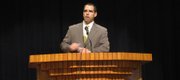 Haskell Indian Nations University President Chris Redman wants to go on record talking about a number of difficult situations that face the university six months after he took over its head job.
During his State of the University speech as part of Haskell's spring 2012 convocation ceremony Tuesday, Redman announced that Haskell will bring in an outside consulting firm to "help facilitate but not conduct" a strategic initiative planning process within the administration and said that he wanted to praise students and staff for their commitment to the school and its community.
"I'd be remiss to not state the challenges that remain," he said. "We're in a state of transition."
One of the largest of those challenges is student retention and Haskell's low graduation rate. But progress has been made in this area, he said, at least in student engagement on campus.
Student Senate President Joel Hernandez spoke before Redman and praised student involvement in getting recycling centers open on campus.
Redman spoke out against another challenge: alcohol and drug dependency among students as well as domestic abuse and other violence.
"It's heartbreaking that one student may go through this," he said. "I refuse to accept behavior that leads to harm."
Haskell will take part in increased shared governance with its Board of Regents and Student Senate for an "improved management style," Redman said.
Copyright 2018 The Lawrence Journal-World. All rights reserved. This material may not be published, broadcast, rewritten or redistributed. We strive to uphold our values for every story published.