Photo Gallery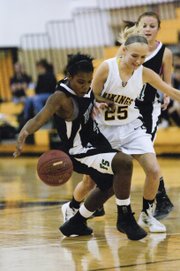 Free State girls vs. Shawnee Mission West
Overland Park — The Free State girls played their best basketball late, dominating the final 2 1/2 minutes in a 51-43 victory over Shawnee Mission West on Tuesday night.
After falling behind 41-40 with 2:46 to play, Free State's Kennedy Kirkpatrick hit the game's biggest shot — a three-pointer from the left wing — to give the Firebirds a two-point lead.
That three was the beginning of an 11-2 Free State run that ended the game.
"The past couple games, we've been thriving in the fourth quarter," Free State senior Lynn Robinson said with a smile. "I guess we just like to keep it close."
The undersized Firebirds did their best to counter the size of West's Molly Norburg and Marleah Campbell.
Norburg finished with 11 points on 4-for-11 shooting with 13 rebounds, while Campbell had 13 points on 6-for-19 shooting with 13 boards.
"We knew that the two big girls were going to be a problem," Robinson said, "but we were able to make it work, thank goodness."
Kirkpatrick led Free State (10-3) with 17 points. She was able to stay in the game after picking up her fourth foul in the final minute of the third quarter.
Copyright 2018 The Lawrence Journal-World. All rights reserved. This material may not be published, broadcast, rewritten or redistributed. We strive to uphold our values for every story published.