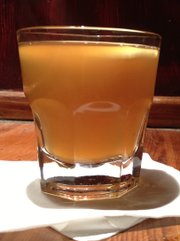 Tis the season for hot drinks, and Henry's Upstairs serves a local favorite of the alcoholic variety. Their seasonal Hot Hard Cider is made with apple juice, bourbon, spices, a dash of lemon juice and, depending on your bartender, a touch of Goldschlager. Apple slices dipped in apple whiskey float on top.
What makes drinking this beverage at this particular place all the better this time of year? Henry's Upstairs has a fireplace.
The hard stuff: "A whole lot o' bourbon," the bartender says.
Where it's served: Henry's Upstairs, 11 E. Eighth St. (above Henry's coffee shop)
What it costs: $4
When it's on special: Wednesdays. Hot Hard Cider is $3 a glass.
Other libations at this location: Wine, beer, real martinis and specialty martinis. Chocolate martinis are one of Henry's most popular, and other flavors range from fruity like the Hollywood (Malibu Rum, Midori and pineapple juice) to spicy like the Cajun (vodka with tomato juice and bloody mary add-ins).
Copyright 2018 The Lawrence Journal-World. All rights reserved. This material may not be published, broadcast, rewritten or redistributed. We strive to uphold our values for every story published.