An escaped Leavenworth County Jail inmate is being sought by law enforcement in surrounding areas after Raheem Keron Armstead, 29, ran away from the jail Saturday afternoon.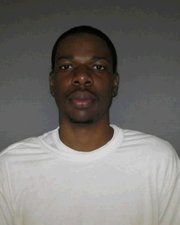 A release from the Leavenworth County Sheriff's Office describes Armstead as a black man, six-foot-three, 190 pounds, with a slim build, short, black hair and brown eyes. He has tattoos of smiling and frowning faces on his chest and a clown face on his back, as well as tattoos on his neck.
Armstead escaped from a work detail about 1 p.m. Saturday while emptying an outdoor trash bin. He was last seen running southwest away from the jail, wearing green and white-striped jail clothes and tennis shoes.
Arrested June 26 on felony drug charges, Armstead was being held at the jail pending additional drug and non-payment of child support charges. He has a history of eluding police and absconding from state supervision, according to a police advisory immediately following the escape.
Armstead served time in prison after a 2008 conviction for robbery and aggravated burglary in Douglas County. Immediately after the escape, police radio alerts suggested Armstead might have been traveling south from the jail in a girlfriend's 1995 Chevy Monte Carlo, color unknown.
Anyone who sees Armstead, or a person matching his description, is urged to call 911 or the Leavenworth County Sheriff's Office at 913-682-5724.
Copyright 2018 The Lawrence Journal-World. All rights reserved. This material may not be published, broadcast, rewritten or redistributed. We strive to uphold our values for every story published.