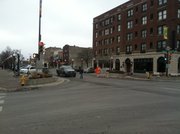 The southbound lane in the 700 block of Massachusetts has been shut down since early Friday morning following a water main break, according to Mike Lawless, assistant utilities director for the city of Lawrence.
Traffic is being re-routed at the Massachusetts Street intersections at both Sixth and Eighth streets.
Lawless said a leak in a fire line midway down the 700 block of Massachusetts street was the cause of Friday's problems. The lane was still closed Friday evening.
Copyright 2018 The Lawrence Journal-World. All rights reserved. This material may not be published, broadcast, rewritten or redistributed. We strive to uphold our values for every story published.