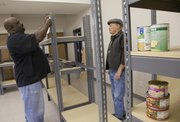 Choice based food system
Besides providing food to the Penn House, Ballard Center and The Salvation Army, Just Food Pantry will also switch over to a choice-based food distribution system beginning the first of the year. Traditionally food had been distributed in premade packages.
Just Food Pantry executive officer Jeremy Farmer said that the new system gives clients a shopping list, allowing them to pick out their own proteins, grains, vegetables and dairy products from the pantry. This ensures the clients get items that they will use instead of accumulating the same items.
"Clients aren't going to say we have too much of this because it's free food," Farmer said. "We have some clients, they had enough beans for the apocalypse."
Just Food Pantry executive officer Jeremy Farmer hopes to be unemployed in five years.
He would like to see the pantry shrink until it is no longer needed in the community, but recent trends show that's not an option in the near future.
"We served 10,000 people in a month," he said. "I don't see our numbers as a monument to success but a reminder that we have failed."
That's why, with the help of the United Way, Just Food is teaming up with the Ballard Center, Penn House and The Salvation Army to try to fight the actual problem of poverty, instead of treating the symptoms.
Under a new program, The United Way Self-Sufficiency Goal, Just Food will now stock the Ballard Center, Penn House and The Salvation Army food pantries as well as provide them with healthier foods, such as fresh bread and produce. This will free up the Ballard Center and Salvation Army to create programs to help their clients focus on their strengths and apply them to build a self-sufficient life.
"It will provide people, who receive stabilization by the food, with an opportunity to pursue what they perceive as a better life so that in the future they aren't dependent on these resources, which is our ultimate goal," said Kyle Roggenkamp, director of human services at Ballard Community Services.
The overall purpose of the Self-Sufficiency Goal is to provide low-income residents with affordable housing, job training and emergency services, Erika Dvorske, director of United Way, said.
"The hope is that by working together, we can deliver the best services to the most people," she said.
Farmer said the cooperation between the organizations began after the realization that they were all competing for funding from the United Way to provide similar services. Farmer said the new arrangement will allow each nonprofit to do what it does best.
"We are seeing how we can be more efficient with people's money," he said. "It's unprecedented. You have three agencies that are basically allowing each other to help."
Copyright 2018 The Lawrence Journal-World. All rights reserved. This material may not be published, broadcast, rewritten or redistributed. We strive to uphold our values for every story published.