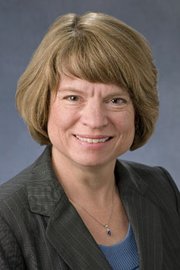 Too often, Donna Ginther says, when a researcher completes a study, it's published in a journal and then more or less forgotten.
But that's not what happened with some findings that the KU economist published last year. Earlier this month, the National Institutes of Health announced new measures aimed at creating more diversity in the field of medical research. The move was in direct response to a study led by Ginther that resulted in some troubling findings: that black researchers were one-third less likely than their white counterparts to receive NIH funding.
"It's changed how the agency thinks about these issues and how it's going to deal with these issues going forward," said Ginther, a professor of economics and the director of KU's Center for Science Technology and Economic Policy.
The federal medical research agency on Dec. 7 announced several different initiatives aiming to address the diversity problem from several angles.
They include a new program for undergraduate students that will give them research experience and financial support, in hopes of increasing diversity in Ph.D. programs; a mentoring program that will connect less-experienced researchers with veteran scientists; and a pilot program that would make NIH grant applications totally anonymous.
Those changes were recommended by a panel that formed in response to Ginther's study last year. Work on that study, commissioned by the NIH in an effort to examine the medical-research workforce, began back in 2008. The results were published in the journal Science in August 2011.
"We're becoming more diverse as a country," Ginther said. "That's not reflected in the makeup of the biomedical workforce."
Her study, which examined grant applications to the NIH from 2000 to 2006, found that black applicants were much less likely to receive grants, even when controlling for numerous other factors.
The reason why was difficult to pin down, she said, but further analysis has shown that there's a lack of diversity at all levels of the medical-research pipeline, from the graduate programs that train researchers to the journals where studies are published.
NIH director Francis Collins has made it clear he considers that a problem, Ginther said. "If you have a diverse group of people working, you get better ideas," she said.
The NIH has asked Ginther to do a follow-up study to help determine why, exactly, that racial funding gap exists. She's examining the same applications she looked at before, but this time with some additional information: the career information that researchers generally include with grant applications, including their educational background, previous research publications and more.
That research is still in progress, she said, but evidence so far suggests that black applicants tended to have fewer published journal articles on their resumés. Because of that, she says, the new NIH mentoring program could be a great step, helping more researchers develop the experience needed to land a grant.
"I think that's the right path," Ginther said.
She said the steps to eliminate bias in the grant approval process are also important, though. It's possible that reviewers are likely to favor applicants with whom they have a connection. "It's important that the review process identify the best science," Ginther said.
For the NIH, which funds more than $30 billion in medical research annually, that's what it's all about, she said: ensuring the best possible scientific work in the future.
Copyright 2018 The Lawrence Journal-World. All rights reserved. This material may not be published, broadcast, rewritten or redistributed. We strive to uphold our values for every story published.