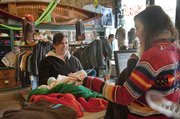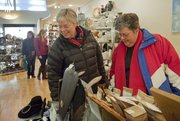 With temperatures in the teens and a bitter north wind blowing through downtown Lawrence, there were plenty of open parking spaces on Massachusetts Street the morning after Christmas. But as temperatures rose into the upper 20s by late afternoon, the post-holiday traffic appeared to be coming back to normal.
Cindy Rood and her daughter Allison were among the few people braving the cold in downtown Lawrence early Wednesday.
"My mom got us all pairs of slippers, and two of us got the wrong size so we had to exchange ours, but we were able to do it," Cindy Rood said while pulling her coat tighter against the cold.
"My son is out too," she said, pointing up the street. "He got a pocketful of change, and he's sure wanting to spend it. And she (Allison) got some money, so we'll see if she wants to spend it or not."
While the Rood family seemed a little more eager than most to go back out shopping in the cold, local retailers were optimistic that the traditional post-holiday shopping spree would pick up between now and New Year's.
"I was just in the jewelry store downstairs and I was the only one in there so far, but I think it's pretty cold right now," Cathy Hamilton, director of Downtown Lawrence Inc., said during a midmorning interview. "Typically, though, yes this is a big day both for the return and exchange business. And also because a lot of people tend to have this day off, and a lot of the students are out of school. They'll come down and spend their gift certificates."
Hamilton said Downtown Lawrence Inc. gift cards, which are good at any of the association's member merchants, were a big seller this year. Although official numbers aren't yet available, she estimated sales were up about 20 percent over last year.
Gift cards and gift certificates have become increasingly popular in recent years, and many retailers are finding they help stretch out the holiday shopping season which, according to the National Retail Federation, account for about 20 percent of the total annual retail sales in the United States.
Teri Walsh, who manages the Target store at 3201 Iowa St., said gift cards are a big part of the company's post-holiday marketing strategy.
"With gift cards, they're not actually into our sales totals until we actually redeem them," she said. "That's why it's a big deal for us. It's almost like a fifth season of sales — the gift cards that we get having people come back in. It's a big sales driver for us."
Joe Flannery, president of Weaver's Department Store at 901 Massachusetts St., said the day after Christmas is typically a big day for his store, although not nearly as big as the day after Thanksgiving or Christmas Eve, which typically are the two busiest days of the year. And this year, it was starting off slower than normal.
"I think people are still taking their time getting out this morning, but Dec. 26 is always a busy day with people in town for Christmas and making returns or exchanges," he said.
Copyright 2018 The Lawrence Journal-World. All rights reserved. This material may not be published, broadcast, rewritten or redistributed. We strive to uphold our values for every story published.