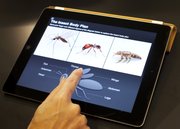 Move over MP3s, Kindle and Wikipedia. The next digital revolution that will shake up the powerful publishing industry is about to take place, and it's coming to a school near you.
Starting with the new semester in January, Lawrence public schools will begin pilot testing a new Web-based tool that, among other things, will allow teachers to dispense with traditional hardbound textbooks and replace them with "open-source" learning material. That is, digital media that can be copied and distributed for free, without copyright or royalty restrictions, as long as it's used for classroom educational purposes.
"I think this is a game-changer, I really do," said Adam Holden, Lawrence's assistant superintendent for teaching and learning. "I think the free, open-source availability of really good materials changes the game completely. Our students now have the ability to access information which is, quite frankly, staggering."
If the pilot tests go as planned, and if voters approve an upcoming bond issue that includes funding for districtwide technology upgrades, Holden said the district could be ready to deploy the new system throughout the district within two or three years.
Last week, Holden gave a presentation to the board of education showing how the new system is intended to work.
Using their own devices — laptops, tablets and even smartphones — students would log in to a Web portal called "Canvas," where all of the material for each course is stored. Teachers can load the system with all of the reading material and other content that goes with the course, as well as worksheets, quizzes and tests. Both the teacher and student will use the portal to keep track of the student's progress and even communicate one-on-one outside the regular classroom environment.
The system allows reading and other learning material to come from a wider variety of sources, including traditional publishing companies as well as a burgeoning number of other groups that are now offering content for free, or at a greatly reduced cost.
Ultimately, Holden said, that could result in substantial savings for parents who are currently paying textbook fees of $97 per year for an elementary student, and $147 per year for students in grades 6 through 8.
"We're too early in the process now to know what that will look like," Holden said. "But our early conversations would suggest that if we can find the sorts of resources that we're looking for in terms of our texts, and we can get our hands on those (online), and at no cost, then yes. Certainly in terms of the course fees that we've seen in the past, there's the potential for those to be greatly reduced."
Common Core standards driving change
Tom Foster, director of career, standards and assessment services at the Kansas State Department of Education, says open-source material has been available for some time, but the movement received a huge boost with the widespread adoption of the Common Core State Standards in reading and math.
With those standards now in place in 45 states and the District of Columbia, Foster said, it's much easier now to develop material specifically tailored to those standards, and to share material among districts and across states. "It really started gaining traction this year, and it's moving forward," Foster said.
There are now a number of groups that are compiling open-source learning materials and making them available to educators. Creative Commons is one organization that distributes open-source material and recently began branching out into the educational market. Another is OER Commons, which stands for Open Educational Resources.
In addition, Foster said, the non-profit organization Achieve, which helped coordinate the process of writing the Common Core standards, is now trying to develop systems for reviewing open-source content and certifying it to line up with specific sets of standards at specific grade levels.
With the massive volume of material now becoming available, Foster said, teachers may soon have the ability to select different material that is specifically tailored for different school settings, or different types of students. For example, teachers can pick material designed for an urban, low-income class, middle-class rural schools, and even for students whose native language is not English, or students with visual impairments.
"It's much more of a teacher-led, student-driven kind of system," he said. "It's much more directed to the needs of individual students.
Bridging 'digital divide'
For now, Lawrence officials are designing the new Canvas platform around the "BYOD" model — Bring Your Own Device. That's because most students today have some sort of computer device of their own that they carry with them, even if it's as small as a smartphone.
Under that model, students can log into Canvas and view all of the material through that portal, even if they don't have a specific application like Adobe Acrobat or Macromedia Flash loaded on the device.
But their access ends as soon as the student logs off the Internet, and that means students who don't have Internet access at home won't have the same ability to work through the system outside of school.
A survey of district patrons that was released last week showed 97 percent of respondents have Internet access at home, which means the district will eventually have to make accommodations for the small number of families that don't, as well as those that might share one family computer among multiple children.
Assistant Superintendent Holden said officials are still working on ways to solve that problem.
"We might be looking at the hours of operation of our schools, or parts of our schools, so that the concept of a 'community school' is one that maybe has a library or digital media center that's open early in the morning and certainly after school," he said.
Another possibility, he said, is to work with outside organizations such as the Boys and Girls Club that sponsor after-school activities to make sure students without Internet access at home can go there to do online homework.
Traditional publishers
Some analysts are suggesting that the growth in open-source textbooks will be another blow to traditional textbook publishers who have already seen revenue decline as states cut back on education funding and local schools struggle with declining property tax revenues because of a depressed real estate market.
In November, McGraw-Hill Education, the world's second-largest publisher of educational textbooks, was sold to a private equity firm for $2.5 billion. Some market analysts attributed the lower-than-expected sale price, at least in part, to growing competition from new digital media.
But company officials say they will continue to be major players in educational publishing.
"We still definitely believe in the value of content that is peer-reviewed, that is vetted, that is backed by years of research, if not decades," said Brian Belardi, spokesman for McGraw-Hill Education. "That's what we do and that's what we're committed to. But understanding that different schools and different instructors have different needs, we've built our digital platforms to be flexible so that teachers can use open-source content alongside our content if they'd like to. We have a fairly open attitude toward open source."
Copyright 2018 The Lawrence Journal-World. All rights reserved. This material may not be published, broadcast, rewritten or redistributed. We strive to uphold our values for every story published.