While most of us enjoy Christmas Day and the evening before making merry with family or friends, there are a number of community members at work in emergency services, ready to take care of the rest of us when something goes wrong.
Thanks to one Lawrence family, not all of them have to miss out on the traditional office cookie tray.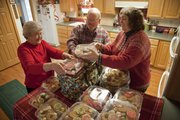 For at least 15 years, Mark and Shanon Marks and their family have baked hundreds of cookies and delivered them to the hospital, police station, fire stations and a call center around the time the overnight shift begins on Christmas Eve.
If you think that sounds like a lot of cookies, you'd be correct. They baked and expected to deliver about 150 dozen Monday night, nearing double the number they did the first few years, Shanon said.
"We know that it's kind of hard to work on a holiday and not be with your family," she said. "The homemade cookies can make it feel more like a home."
Mark added, "It's the day shift that gets all the good stuff. It's the people that are there at night that aren't getting that."
The Markses' daughters, now grown (and one an emergency room nurse), have helped bake and deliver, and Mark's mother, Winona Marks of Lawrence, remains a critical cook in the effort.
Winona loves to bake cookies — oatmeal crispies and sandies are among her specialties — and said the Christmas Eve effort is a perfect outlet for sharing them.
"The commercial cookies are very, very good," she said. "But there's just something about the love and the time that you spend — it's a lot different than just dashing down to the store and buying a dozen of some cookies."
With some family members working individually and some as a group, the Markses tackle "marathon baking days" in the week leading up to Christmas, Shanon said. Then they box cookies in napkin-lined plastic "clamshells" — a much sturdier, stackable option than the plastic-wrapped plates they began with years ago — and load the packages up for delivery.
Shanon normally drives, and Mark takes cookies inside the destinations, usually stopping to chat only when invited.
Mark said they try not to make a big production of their deliveries, opting more for a secret-Santa approach.
"It's about the sentiment, not the recognition," he said.
The Markses know what it's like to be the people working Christmas. Mark, a veterinarian, used to give his employees at Marks Vet Hospital Christmas Eve and morning off.
It was a family affair for the Markses and their daughters to tend to all the boarded pets on the holiday. He and Shanon, who also works at the vet hospital, were on call for pet emergencies, too, which aren't uncommon on Christmas.
Since merging his practice, now Wakarusa Vet Hospital, in 2002, Mark doesn't do that anymore.
But in 2003, Mark found himself on a job much farther away from his family than the veterinary hospital — Kuwait.
That year, while Mark served as a military veterinarian during Operation Iraqi Freedom, the rest of the family carried on the tradition for him, baking and delivering all the cookies themselves. They sent him care packages, though, which he was able to share with others serving in Kuwait.
Mark said the employees at the call center that handled his emergency vet calls — plus calls for other businesses in the community — inspired him to start the Lawrence cookie project years ago. There were call center employees he spoke to frequently but never met in person.
To those call center employees, police dispatchers, nurses, firefighters and others, he explains the cookies this way: "We knew you would be here tonight, we knew you'd be here serving our community, and we wanted to do a little something to show we appreciate you."
Copyright 2018 The Lawrence Journal-World. All rights reserved. This material may not be published, broadcast, rewritten or redistributed. We strive to uphold our values for every story published.