Thank goodness Kansas is the Sunflower State rather than the Tulip State or some other less-endowed species of flora.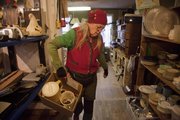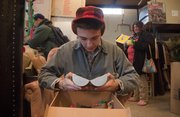 You see, in the window of the Social Service League Thrift Store, 905 Rhode Island St., there's a large poster board of two gorillas standing proud. But it is a sunflower that is the really important part of the scene. A strategically placed expansive sunflower is pasted on the poster board to cover the male gorilla's midsection.
"It started out as a shade to screen the sun," Jean Ann Pike, the manager and lone employee of the thrift store, says of her pet gorillas. "But I keep them up there because they're fun."
They also are a reminder of just what type of place
shoppers have stumbled upon here. In a nutshell, it is Lawrence's counterweight to the big-box store shopping experience.
"I don't see the challenge in those other stores," Pike says. "Anybody can walk in there and buy what everybody else is buying. Where is the fun in that?"
There's no question, though, which end of the spectrum Lawrence is more weighted toward these days. On Black Friday, there were no lines out the door at the thrift shop. There won't be a barrage of shoppers lining up for after-Christmas deals either. In fact, most Lawrence holiday shoppers won't ever set foot in the store.
But don't kid yourself: Business is booming here. The Social Service League, which has roots dating back to 1863 in Lawrence, provides vouchers to various social service agencies that serve the poor. Each voucher entitles a shopper to fill a bag with clothes or household items.
On this day, by about 1:30 p.m., shoppers have redeemed 24 vouchers.
"There were times that it would be 24 in a week," Pike says. "But the need is really high now."
Shoppers wander through what could be called a maze of merchandise. Half the store is in an old 1890s stone house. Old bedrooms, a dining room or a kitchen are now retail departments for books or toys or some other grouping of products.
The second half of the store is a concrete-block building where you can find all sorts of items, such as clothing, shoes and coats — the last of which you may want to buy if you stay for very long. The old building captures the chill of a Kansas morning and doesn't let it go. That's in large part because Pike believes in a light hand with the store's thermostat, creating a frugality that seems to fit the place.
"I came down here to buy a curtain rod about a week after moving to town," Pike recalls of her first visit to the store in the late 1990s. "I just looked around and said, 'these people get it. They really understand poverty.'"
Pike started volunteering right away and became an employee and manager in 2000.
Now, she is also a chief shopping strategist. She frequently tells shoppers to not just skim the top of the boxes. Dig in there. Every box is like Christmas, she says. There's no telling what may be in a box. Sometimes store employees take a vow not to mention what they found in a box; other times, they're not sure what it is.
All items in the store are donations from community members, most of whom drive up to the back alley and unload under the watchful eyes of the gorillas and a security system that seems to amount to a series of signs that remind people the store helps the needy and that stealing from it will produce "really bad karma."
Why anyone would steal from here is tough to figure. Most every item is $1 or $2, but a price tag seldom stands in the way of people leaving the store with the necessities they need. Maybe there is something to the karma concept because it all seems to work out.
"You would be amazed at how many people pay more than what we're asking because they know it helps," Pike says.
All the proceeds of the store go to keep the store and its voucher program afloat, or else they go to the Social Service League's vision fund, which pays for eye exams and glasses for those in need.
In a way, it is the poor helping the poor here. Donations come from all walks of life, but Pike notes the giving spirit of the less fortunate.
"It is amazing how many people who don't have anything are willing to share what they have," Pike says.
Pike, though, says she also could point to bankers and lawyers and other professionals who are regular shoppers of the store because they understand the value of a good deal.
Indeed, the store attracts all types — like this young man who seems to be gathering a collection of dress slacks, suit jackets and other finery.
When he sees Pike, he stops and gives her a hug.
"I'm getting married today," he says.
"Well then, give me a real hug," Pike says.
He does and then goes about spending his big day searching for the next surprise in a box of merchandise.
"I get to know people and be a part of their lives," Pike says. "That's the best part."
That's tough service to find at a big-box store. But of course, this isn't a big-box store. This is Lawrence's hidden gift shop, where soon enough people discover the most valuable gifts are the ones you can't buy.
Thankfully, that includes the gorilla's sunflower.
Copyright 2018 The Lawrence Journal-World. All rights reserved. This material may not be published, broadcast, rewritten or redistributed. We strive to uphold our values for every story published.