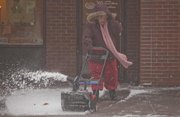 Several area school districts have canceled school today, Dec. 20, 2012, because of weather conditions:
• Lawrence.
• Perry-Lecompton.
• Ottawa.
• Basehor-Linwood.
• Eudora.
• Tonganoxie.
• Santa Fe Trail.
• Baker University Baldwin City campus.
Other closings:
• Independence Inc.
• Prairie Moon Waldorf School.
• Lawrence Montessori School.
• Douglas County Senior Services' Senior Meals Program.
• Lawrence Athletics and Gymnastics, no morning activities.
• Senior Wheels.
• Lawrence Senior Center.
• Lawrence Arts Center Arts-based preschool. (The Arts Center will be open through 9 p.m.).
Opening late:
• Lawrence Public Library will open two hours late, at 11 a.m.
• Haskell Health Center, opening at 10 a.m.
• Just Food was closed until noon, and will be open until 5 p.m. today.
Power outages:
Westar Energy is reporting power outages in Douglas County.
Weather outlook:
The National Weather Service forecast reports that snow will continue to fall until about 9 a.m., followed by blowing snow. Today will be windy, with northeast winds at 25 to 30 mph this morning, decreasing slightly this afternoon. Wind gusts could be as high as 45 mph. The weather service forecast says total snow accumulation likely will be about 1 inch.
Roads:
Early Thursday morning, emergency crews were responding to numerous minor accidents related to the weather conditions.
Much of K-10 is "snowpacked." You can check out the Kansas Highway Patrol's road map here: http://bit.ly/U0mP1b.
On Interstate 70, the Kansas Turnpike Authority reports "ice possible" between Topeka and Lawrence. Check their map here: http://bit.ly/TCdxdc.
All lanes of US-56 at the Osage/Douglas County line are closed after an accident, according to the Kansas Department of Transportation.
However, is reporting that all roads in Northwest Kansas are open, as of 7:20 a.m. Thursday according to KDOT.
Copyright 2018 The Lawrence Journal-World. All rights reserved. This material may not be published, broadcast, rewritten or redistributed. We strive to uphold our values for every story published.