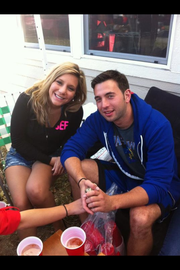 Douglas County District Court Judge Peggy Kittel ruled Thursday that there was enough evidence to proceed to trial in the case of a 21-year-old Mission man charged with involuntary manslaughter.
Justin Paul Gonzalez is accused of causing the death of 27-year-old Nicholas J. Sardina, of Lawrence, who died in February after Gonzalez allegedly struck Sardina in the head with a bottle.
During a three-day preliminary hearing, witnesses testified about a fight on Feb. 25 at a house in the 1400 block of Kentucky.
Raven Walters, a friend of Sardina, testified that Sardina and a group of people became involved in an altercation at a gathering at the house, which was the home of a mutual friend. The altercation became physical, and at some point, Sardina was struck in the head with a beer bottle, Walters said.
Prosecutors are alleging that Gonzalez was the man who struck Sardina with the bottle.
After being hit, Walters and Sardina left the house, went to Walters' home and went to bed. When Walters woke in the morning, Sardina declined an invitation to go to lunch. A couple hours later, another friend found Sardina dead.
Prosecutors are alleging that Sardina's death was caused by the trauma to his head.
Kittel scheduled a trial for July. Involuntary manslaughter is a level-5 person felony, with penalties ranging from probation to 11 years in prison, depending on the suspect's criminal history.
Sardina was originally from Clarence, N.Y. He was a sergeant in the Kansas National Guard and had served three tours in Iraq from 2006 to 2007 with the Army's 1st Infantry Division based at Fort Riley. Friends said he played on club hockey teams at both K-State and KU. He had last enrolled at KU during fall 2011.
Copyright 2018 The Lawrence Journal-World. All rights reserved. This material may not be published, broadcast, rewritten or redistributed. We strive to uphold our values for every story published.