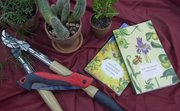 In this season of gift-giving, I am often tempted to share my love of gardening with others in the form of plants, garden tools and miscellaneous garden accessories. I can easily convince myself that the right pair of pruners is exactly what my brother needs to take better care of his shrubs and a Chia Pet is just the thing to arouse my niece's interest in growing vegetables.
This kind of thinking can end up in disappointment for everyone.
Non-gardeners can be lured into the gardening habit, but gardeners need to think more simply about what gifts will provide the most satisfaction.
This year, instead of sacrificial orchids and expensive tools that waste away their life in the garden shed, think about the very basic things you like about gardening.
Here are some basic rules for gift-giving from gardeners to non-gardeners.
Plants
Many gardeners enjoy the sense of accomplishment of keeping a plant alive and healthy and of encouraging the plant to bloom and produce fruit.
Most gardeners have lost a few plants (myself included) but compost the ones that fail and move on to the next species.
A non-gardener, however, may find it more difficult to try another plant when the first one fails. Instead of feeling accomplished, they may feel bad about the plant's ill health and be less interested in trying gardening than before.
If purchasing any kind of live plant, look for one that is easy to grow and appropriate for the light conditions in the home, office or yard of its new owner.
A cactus garden or succulent garden might be an enjoyable adventure for someone who forgets to water, although they will certainly appreciate a more attentive caregiver also. An outdoor plant might be a better choice for the friend who tends to overwater.
Terrariums require little care and could bring a greater understanding of plant growth and ecosystems, but include instructions so your unsuspecting friend knows how little to water and how much light to provide.
I mentioned orchids because they are the most common gift plant that ends up sickly in my office. Orchids are fantastic gifts for gardeners who are interested in trying to grow orchids and have the right environment in their home or office.
If you find an irresistible one that you want to buy someone, take it out of the foil wrapper that will unsuspectingly hold water around the plant's roots. Set the orchid into a decorative planter with drainage holes and a saucer, or re-pot it. Provide the recipient with written (so they can refer back to it) instructions on light, watering and re-potting.
Books and magazines
If the person you are shopping for enjoys reading, a book or magazine subscription might be a simple way to let them learn enough about gardening that they will want to try it.
Something like Mel Bartholomew's "Square Foot Gardening" has inspired many people over the years since the original publication in 1981, and a new edition is due out in February 2013.
I also enjoyed Linda Chalker-Scott's "The Informed Gardener" and "The Informed Gardener Blooms Again," which dispel a lot of gardening myths and misconceptions to get a new gardener started on the right foot.
Tools
A nice trowel and high-quality garden gloves might be useful to someone getting started, but a shovel or other big tools might just scare someone away.
If the gift recipient dabbles in the yard already, look for something they never knew they needed, like a Hori Hori knife (combination weeder/digger/trowel), a good pair of bypass (curved blade) loppers or handsaw that cuts on the backstroke.
Save the compost bin for the more experienced gardener.
­— Jennifer Smith is the Horticulture Extension Agent for K-State Research and Extension in Douglas County. She can be reached at 843-7058.
Copyright 2018 The Lawrence Journal-World. All rights reserved. This material may not be published, broadcast, rewritten or redistributed. We strive to uphold our values for every story published.