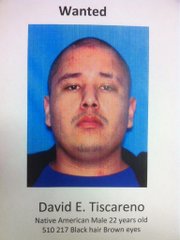 Topeka — Two Topeka police officers were shot and killed Sunday evening by a suspect who remained at large early this morning.
Cpl. David Gogian, 50, and Officer Jeff Atherly, 29, died at a Topeka hospital after being wounded in a shooting near the Dillons grocery store at 1400 SW Huntoon St. about 6 p.m. Sunday. The two officers were responding to a report of a suspicious vehicle at the store, police said. A third officer at the scene when the shooting occurred was uninjured.
In a televised press conference Sunday night, Topeka Police Chief Ron Miller said police were seeking 22-year-old David Tiscareno, of Topeka, as a suspect in the shooting.
Miller said there was more than one person in the vehicle that police were investigating, a 1999 silver Toyota Camry. Officers later found the vehicle outside a house about 10 blocks from the grocery store, but when they searched the home they didn't find the shooting suspect.
The chief declined to say why officers were investigating the vehicle and why it was considered suspicious.
Miller said he did not know why the suspect opened fire on police within minutes of their arrival to investigate the vehicle. Both officers were shot in the head.
"All I can tell you is it's a tragedy," Miller said. "It's clearly beyond words, and it's unclear why this is happening in America."
Tiscareno has a 2011 conviction for possession of an illegally modified shotgun under 18 inches long.
Miller encouraged anyone with information on Tiscareno's whereabouts to call law enforcement.
Gogian started with the Topeka Police Department in September 2004. Atherly had been with the department since April 2011.
Of Gogian, an eight-year veteran of the department and recently retired from the military, Miller said "He was quite a guy. He spent his life in the service of the city of Topeka and the country."
Gogian's son is also a Topeka police officer.
"Officer Atherly was just getting started," Miller said. The younger officer had been on the force only about 18 months.
The last time a Topeka police officer died in the line of duty was in a 2000 helicopter crash.
Copyright 2018 The Lawrence Journal-World. All rights reserved. This material may not be published, broadcast, rewritten or redistributed. We strive to uphold our values for every story published.