Alexa Gaumer scored 18 points, and Courtney Hoag scored 11 to lead Seabury Academy to a 39-34 girls basketball victory over Axtell on Saturday at Seabury.
Photo Gallery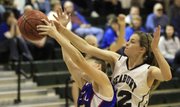 Seabury girls basketball vs. Axtell
The Seahawks, who trailed by four points in the third quarter, improved to 2-4.
"We lost a few that we shoulda, coulda, woulda won, but we didn't," Seabury coach Keith Smith said. "The girls have improved greatly, and we're looking forward to getting back at it in January."
Gaumer pulled down eight rebounds for the Seahawks, Hoag had seven rebounds and five blocked shots, and Sarah McDermott had five rebounds and four blocked shots.
Next action for Seabury is Jan. 11 at University Academy.
Copyright 2018 The Lawrence Journal-World. All rights reserved. This material may not be published, broadcast, rewritten or redistributed. We strive to uphold our values for every story published.