Joe Simpson scored 15 points, and Mito Owino added 10, but Seabury Academy fell to Axtell, 63-55, on Saturday at Seabury.
Photo Gallery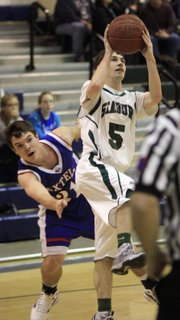 Seabury boys basketball vs. Axtell
"We played really well," Seabury coach Ashley Battles said. "It's taken us six games, but we've kind of learned our identity."
Marcus Allen and Brandon McCaffrey added nine points apiece, and Eric Shin scored seven for Seabury.
Seabury (0-6) will next play Jan. 11 at University Academy.
Copyright 2018 The Lawrence Journal-World. All rights reserved. This material may not be published, broadcast, rewritten or redistributed. We strive to uphold our values for every story published.