As Queen's "Fat Bottomed Girls" segues into AD/DC's "Dirty Deeds Done Dirt Cheap," the dozen or so men and women doing pushups and situps, or throwing oversized medicine balls against a wall, are getting a little sluggish.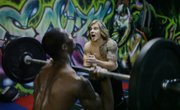 Believe it or not, they've all actually paid their money to be subjected to a form of exercise torture inside a small warehouse in eastern Lawrence Wednesday night.
The shaggy-haired, tattooed maestro of the orchestrated exercise madness takes note that the group is slowing down. And there's a long way to go.
"Go, go, go," he shouts, weaving in and out of the exercisers at various stations, as barbells and kettle balls fly about.
"Watch the posture," he enthusiastically tells a woman whose squatting form is getting a little sloppy.
He gets right in the face of a young man who's showing the pain and frustration in his eyes every time he bends down for another dead lift.
"Watch the game face," he admonishes.
This isn't your typical exercise class. And Thomas Thatcher, a 24-year-old former Marine who's bounced back after a mental breakdown in 2010, doesn't look like a typical small business owner.
Backyard workouts
Step inside the CrossFit Lawrence facility, 701 E. 22nd St., and you'll be greeted by a shirtless Thatcher, his left arm and shoulder adorned with a Marine "sharpshooter" tattoo.
His body is a walking testimonial to the advantages of CrossFit, an international fitness phenomenon that marries elements of group fitness and competition. It began in 2003 as a fitness blog and now has a national organization with 4,500 affiliate gyms and more than 3,000 certified CrossFit trainers. Thatcher calls it "adult phys ed."
About 5 foot 8 inches tall, 165 pounds, Thatcher doesn't appear to have an ounce of fat on him. With each movement, muscles contract and twitch in Thatcher's compact physique.
As he begins to tell the story of how he built his business, he pours a powdered protein mixture into a small plastic bag, adds water and chugs the impromptu shake in one gulp.
When he was discharged from the Marines in 2010 after serving two tours overseas, the Overland Park native moved to Lawrence with his younger brother and enrolled in KU with a goal of getting a degree in exercise science. Realizing he'd gotten a little out of shape since his discharge, Thatcher ran across CrossFit training on the Internet and was hooked.
"It just blew my mind," he says.
Get Thatcher started talking about CrossFit, and it's difficult to slow him down; it's the competition, pitting yourself against your own body, measuring yourself against others, the rush of the training, he tells you. The strenuous CrossFit training regimen began in a Seattle gym in 2000 and has spread quickly to nearly 5,000 locations around the world. The company licenses the program to entrepreneurs like Thatcher and trains them.
To spread the CrossFit gospel, Thatcher needed a place to train. He asked his landlord if he could set up a little workout area in the backyard and got started with oversized tires and pullup bars. Pretty soon, friends and neighbors started stopping by for workouts as CrossFit training gained in popularity.
Fall — and colder weather — was coming, so Thatcher started hatching plans to build a gym based on the CrossFit principles.
But the stress of starting a business and college classes sent Thatcher over the edge. He wasn't sleeping, and friends and family became increasingly concerned about his mental health.
"I just drove myself into a mania," he says. "I didn't really know what was going on."
Thatcher was diagnosed with bipolar disorder and spent two weeks each at Osawatomie State Hospital and the VA Hospital in Topeka in the fall of 2010.
His hospital stays caused him to fail his KU classes, and he says he hit rock bottom.
"I just sat around, depressed," Thatcher says.
But as 2011 started up, Thatcher re-enrolled at KU and started earning training certifications from the CrossFit organization, which can cost anywhere from $500 to $1,000. He restarted his backyard workouts, and as his mental health stabilized, Thatcher again started thinking of ways to get his gym going.
He needed a building, and for that, he needed money. That's where Thatcher's natural enthusiasm and charisma came in handy.
Tracy Williams and her husband, Jason, were two of Thatcher's devout backyard workout followers, and felt compelled to help keep the gym going.
"We started getting freaked out that it would close down," says Tracy, who began working out with Thomas in his backyard in 2010.
Thatcher made the Williamses and several others a novel offer: plunk down $2,500 per family so Thatcher could open a gym, and they'd have a lifetime membership. Regular members pay about $100 a month.
That sounds like a risky gamble but not for Tracy. When Thatcher promised that he'd be successful and that the gym would grow and last, the Williamses were in.
Thatcher was able to sign up several other lifetime members and secure additional private loans from other members.
"It's because it's Thomas," Tracy says of grabbing the deal. "His energy, his knowledge, his passion. He cares that much about people."
'Drop your ego at the door'
On Wednesday night, April Wright, a 31-year-old Lawrence mother of two, was the first to head on the "Haskell Run," a one-mile run with a 25-pound dumbbell that is the last obstacle to the day's workout. Wright, along with the other CrossFit members that night, went through a tortuous cycle of exercises, all catered to their individual goals. They all go through a cycle of squats, lunges, dead lifts, situps and few other unrecognizable body movements. The more advanced members use heavier weights or do more reps.
Each day, the gym offers three exercise classes designed around the CrossFit workout of the day, posted on the official CrossFit website and practiced by hundreds of gyms like Thatcher's across the globe. At other times, members come in for workouts, receiving encouragement from the gym's four trainers.
Wright, who began CrossFit training this summer, returns from the run, lies down and closes her eyes in the corner of the gym. She's the first done today, in just under 45 minutes. She catches her breath and smiles, saying this is the first time she's beaten all the other members.
"There's always someone who's always a little better than you," Wright says. "I tried it, and it's like a drug."
Several other of Thatcher's disciples will say the same thing, and joke about "drinking the Kool-Aid" of the CrossFit routine.
CrossFit and the gym are more than exercise, says Jackie Counts, a 47-year-old Lawrence social worker.
"They want to connect with people," Counts says of Thatcher and the gym's three other trainers, including Thatcher's younger brother, Kyle.
Counts says the gym is a close community, and many of the members are friends outside the gym. She brings her two sons, age 17 and 19, along with her and calls the exercise a great family activity.
But Thatcher's energy is the main draw here. He knows everyone — about 120 people or so — who works out at the gym and customizes the exercise routines to each person's goals.
Counts, for instance, suffers from osteoporosis and needed to build some muscle. Her biggest achievement? Dead-lifting more than 200 pounds. "I feel great," she says.
Like everyone else, Counts' dead lift maximum and other exercise achievements are posted on dry-erase boards throughout the gym.
Want to motivate someone? Put the results front and center, Thatcher says.
No man who comes to the gym wants to be outlifted by a woman. And the women love being stronger than some of the men. "Intensity breeds results," Thatcher says.
Thatcher says he realizes the scoreboards and the competition can seem intimidating to newcomers. "It's intimidating to everyone," he says. But just "leave your ego at the door," and he promises results.
Small goals
Thatcher credits CrossFit and a healthy lifestyle with helping him bounce back from his mental health struggles. When he talks about that dark period in his life, he says he focused on achieving small goals. Sometimes that meant simply completing a grueling workout during the day. "I found my happiness through exercise," he says.
As membership has grown at his gym, he finds himself learning the ropes of running a business and employing three other trainers. Ask him about the future, and he says he hopes to keep growing the gym, maybe moving into a larger facility.
But he'll keep his eye on the smaller goals long the way, which right now are focused on his members. In an instant, he can rattle off the success stories he's seen over the past year.
Some of his members just want to cut some weight; others are trying to tame sore backs and knees. And a few aim to compete in the annual CrossFit Games, a competition between the fittest CrossFit athletes across the country.
"I'm finding my happiness through other people's success," Thatcher says.
Copyright 2018 The Lawrence Journal-World. All rights reserved. This material may not be published, broadcast, rewritten or redistributed. We strive to uphold our values for every story published.