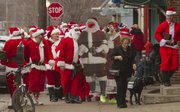 It's that time of year again, when the holiday spirit moves dozens of area Santa Clauses to gather at a downtown bar, have a few drinks and dance to '70s funk hits such as Kool & the Gang's "Jungle Boogie."
It's a holiday tradition some downtown pedestrians are still getting used to, judging by the surprised reactions of passersby at the Sandbar, 17 E. Eighth St., where Lawrence's third annual SantaCon began about 2 p.m. Saturday. Billed as "a conference of Santas," the event is basically a pub crawl for people dressed up like Kriss Kringle and a food drive for Douglas County's food bank, Just Food.
SantaCon is a worldwide event, celebrated in 37 countries this year and 275 cities from New York to Da Nang, Vietnam. The details vary from place to place, but according to the event's main website, SantaCon is usually a party and a good cause rolled into one.
In Lawrence, more than 40 Santas formed a jolly procession along Massachusetts Street from one bar to the next, stopping at several businesses to gather donations for the food bank and the nonprofit Ballard Community Services.
One of the Santas, who usually choose to go only by their Santa names for the day, said he had been part of the event for all three years.
"It's just an excuse to get together with friends, have fun and also do good for the community," he said. "Plus, you get to dress up."
Not all of the participants dressed up like jolly old St. Nicks. The happening also attracted naughty reindeer, bearded elves and one Santa in a zoot suit.
"It's a blast," Zoot Suit Santa said. "And it's a good cause."
Ted Fore and Julie Blichmann, just in from Oskaloosa, watched in confusion from a cafe across the street as the Santas gathered at the Sandbar. Fore said he eventually had to come out and find out what was happening.
"Well, first we saw the one Santa show up with an elf. The next thing you know, there's another. And another, and one more, and one more. I got a big kick out of it."
Copyright 2018 The Lawrence Journal-World. All rights reserved. This material may not be published, broadcast, rewritten or redistributed. We strive to uphold our values for every story published.