Photo Gallery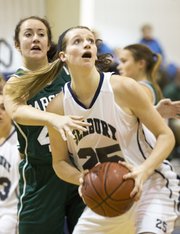 Seabury girls vs. Barstow
Seabury Academy's girls basketball team lost its offensive touch just as Kansas City (Mo.) Barstow hit its stride Thursday night, and the Seahawks lost, 27-24, at home after leading the first 24 minutes of the game.
The Seahawks (1-4) hadn't been shooting the ball well, but their defense troubled the Knights (9-for-46 shooting) so much it didn't matter — at least until the fourth quarter.
Barstow cut into Seabury's 14-9 halftime lead when the Seahawks made just two field goals (one apiece from Courtney Hoag and Taylor Sweeney) in 11 tries during the third quarter.
The Knights took their first lead, 21-20, on a basket by Hannah Lentell with 7:08 remaining. Seabury answered with a short jumper by Sweeney, but the Seahawks couldn't score again until the final seconds, when Reilly Malone scored off an offensive rebound.
Coach Keith Smith's team, which got most of its baskets courtesy of senior point guard Alexa Gaumer's six assists, never trailed by more than five in the final minutes. But Seabury went 2-for-13 from the floor with six turnovers in the fourth quarter.
"The team just got too excited with the situation and let the emotion of the run get to them," Smith said.
To make matters worse for the Seahawks, senior post Hoag, who led the team with 10 points and six rebounds, fouled out with 1:42 left.
Smith said Seabury's offensive struggles (11-for-51 shooting) caught up with the players, making even a small deficit difficult to overcome.
"I thought their hustle was better than we've had every game," the first-year coach said. "We got a lot more shots in the paint. And when they didn't go in and didn't go in and didn't go in, the frustration got to them in the fourth quarter."
Copyright 2018 The Lawrence Journal-World. All rights reserved. This material may not be published, broadcast, rewritten or redistributed. We strive to uphold our values for every story published.