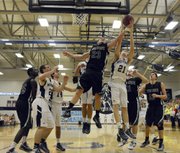 It's not that Free State High's boys basketball program has been hiding senior Cody Scott the past couple of years. He has just been under construction.
Scott exploded on the scene in the Firebirds' season opener with 15 points, at times carrying FSHS in a three-point road win at Topeka Seaman. Few players can say that about their varsity debut.
"He's had to pay his dues and worked for what he's gotten," Free State coach Chuck Law said, "and you can tell by how he plays he doesn't take anything for granted."
Back in ninth grade, Scott played point guard for West Junior High. Then he grew three inches before his sophomore season. Free State's coaches needed the 6-foot Scott in the post when he entered the program, so he began to learn his new position on the sophomore team. Then he developed even more the next year, while playing junior varsity.
This past summer, leading up to Scott's senior year, Law and the rest of the staff began to see signs of his transformation into a mature, 6-foot-2, inside/outside player with strength and athleticism.
"I don't know that any of us knew that through four games he would produce what he's produced thus far," Law said, "but he's been fantastic."
Entering tonight's City Showdown at Lawrence High — tipoff at 7 — Scott is averaging 12 points and five rebounds as a super-sub and has made 20 of his 30 shot attempts. His impact for the Firebirds (2-2) has been clear, but even Scott admitted it has been somewhat unexpected.
"I don't think it's quite hit me yet," he said. "When I'm out there, I don't keep track (of points or other stats). I just play the game."
Senior FSHS forward Logan Bannister said Scott's teammates could tell he had the skills to produce, but his athleticism has taken him to a whole different level.
"He's jumpin' out of the gym, he's strong as a bull, and he's just finishing really well around the rim," Bannister said.
According to Scott, his leaping ability developed the last two years through his managerial duties with Free State's volleyball team.
"Being with them, I'm just jumping and jumping and jumping, blocking for them, playing with them all the time," Scott said. "I think that helped it a lot."
The spring in his legs comes in handy not only when he's inside blocking shots or crashing the offensive glass, but also when he rises for a three-pointer — Scott made three from downtown in a loss at Blue Valley North on Tuesday.
"If someone's struggling, I can go in and just pick up the slack," Scott said. "It means a lot that (Law) has the trust in me to come in and do that job."
His coach also expects Scott to block out the hysteria surrounding tonight's rivalry game against Lawrence (3-1) and produce in his very first Showdown.
"I'm probably a little too excited, a little anxious," Scott said with a smile. "Hopefully I can come out and do the same thing I've been doing, just be consistent."
Bannister thinks Scott can finish down low and rebound over the Lions' guard-heavy lineup.
"He's gonna have a huge impact," Bannister predicted, "because they're a smaller team."
A product of working his way up through the program, Scott has become one of Free State's hardest-working and most reliable players early in the season, Law said.
"Now that he's getting an opportunity to show what he can do at the varsity level, he's relishing that," the coach said, "he's making the most of that."
Copyright 2018 The Lawrence Journal-World. All rights reserved. This material may not be published, broadcast, rewritten or redistributed. We strive to uphold our values for every story published.