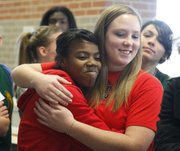 A'Liyah Rogers went about her business this past summer, like she has for years, playing in softball tournaments around the Midwest.
An unexpected break in the routine presented itself, though, in the months leading up to her senior year at Free State High. Out of the blue, after one of her countless games, a coach from Bradley University approached Rogers to let her know the Braves were interested in the shortstop and outfielder. The coach had come to target Class of 2014 players, but the speedy FSHS product piqued the recruiter's interest.
Wednesday afternoon in the Free State commons, Rogers made her college commitment official by signing a letter of intent with Bradley.
"They welcomed me with open arms, and I liked it a lot," Rogers said after celebrating her decision with classmates, family members and coaches.
The future Brave, who shared a signing ceremony with fellow Free State senior Courtney Parker (a Benedictine College softball commit), said she knew immediately Bradley would be her future home.
"The (Bradley) coach (Amy Hayes) was real great, and I just felt like I just got along with them great right when I got there from the jump," Rogers said.
Hayes is excited to have Rogers as part of her team's five-player signing class, too.
"A'Liyah has the talent to be a difference-maker for our program," Hayes said in a release on Bradley's website. "She is a very good shortstop, but sees more time in the outfield. She has a good feel for the game combined with the ability to make adjustments quickly. We are excited she picked Bradley and can't wait to see how big of an impact she can make."
Truth be told, Rogers hadn't heard of the Missouri Valley Conference program before she met its coaches. She didn't even know the Braves were in NCAA Div. I.
"I was like, 'Wow! OK, I like that,'" Rogers said, adding that the scholarship she received will help her out tremendously.
Rogers hit .397 her junior season at Free State, with three doubles and two triples, but she will be used as a slapper when she gets to the college level. Bradley's staff has already told her they plan to use her speed as a lefty to get on base.
Though Rogers is in the midst of basketball season as one of Free State's starting guards, she said she still makes time to get in softball workouts, too.
"It's kind of hard," she said, "but I get through it."
Once she completes her senior year, Rogers is excited to head to Peoria, Ill., to play for a team she at one point didn't know existed.
"It's six hours away," Rogers said. "And I'm looking forward to getting to know my team better."
Copyright 2018 The Lawrence Journal-World. All rights reserved. This material may not be published, broadcast, rewritten or redistributed. We strive to uphold our values for every story published.