Overland Park — As puzzled as they were vexed, Free State High's boys basketball players and their coach, Chuck Law, left Blue Valley North Tuesday night feeling the same as they had three nights earlier following a loss at Lansing.
Photo Gallery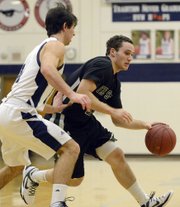 Free State boys basketball at Blue Valley North
For some reason the Firebirds haven't yet figured out, of late they don't seem to play their best until they're too far behind for it to matter.
The Mustangs beat FSHS, 63-52, by building a double-digit lead throughout the second half that allowed them to withstand a late Free State comeback attempt.
The BVN cushion sat at 16 points early in the fourth quarter when something finally clicked for the Firebirds. Junior forward Khadre Lane leapt into the bleachers to save a long offensive rebound, which eventually set up a Cody Scott three-pointer with 4:16 left.
Down 13 points, and feeling positive for the first time since the first half, FSHS (2-2) went on a run. Junior Cole Moreano hit a short jumper, then Scott drained another three to make it 53-41 with 3:28 to go.
The senior sub's energy continued to ignite the Firebirds on the defensive end, where he blocked a shot and secured the ball. Within seconds, sophomore backup guard Weston Hack drilled a three-pointer to cut the deficit to nine.
Said Moreano: "We played with a lot of energy, and it helped. It should have been like that from the beginning of the game."
Hack then stole the ball on defense and took it in for a layup. Free State trailed 53-46 with less than three minutes left, but it couldn't close the gap down the stretch, as the Mustangs (2-1) scored six points in the paint and hit all four of their free throws to finish the game.
For Law, the failed fourth-quarter spurt was too similar to the one he witnessed at Lansing.
"When we play with a sense of urgency, we're really good," Law said. "When we play passive and don't communicate and don't trust one another, we're not very good."
Though the Firebirds didn't play well in the first half, they only trailed 25-18 at the break. The opening minutes of the third quarter proved to be the difference in the game. That's when BVN (ranked No. 4 in Class 6A) dissected the FSHS defense with ball movement that led to a Matthew McHugh three, one of five Jawan Emery dunks on the night and an easy basket inside from Matt Peterson. The hot start got them rolling and they built a 13-point lead.
Scott, who led Free State with 17 points, took off in the second half, scoring 10 in the fourth quarter alone. Still, he couldn't feel good about the team's effort.
"For some reason, we have to be down 10, 15 points to get that drive going," Scott said.
Law expects BVN to be one of the top teams in the state all season and make a deep postseason run, but he said Free State's passive offensive approach, its inability to finish around the rim and hitting just six of 16 free throws all contributed to the 11-point loss.
"We're not a good half-court offensive team right now," Law said after his team shot 20-for-54 from the field (37 percent). "We're gonna become one."
Besides Scott, Lane (12 points) was the only Firebird in double figures. Junior Blake Winslow, who started, scored eight points. Hack had seven off the bench. Moreano scored all six of his points in the fourth.
Scott said the Firebirds, who play at Lawrence on Friday night, just have to get past their work-in-progress state.
"We'll get there," he said. "We just come out slow, but we're gonna change that."
Copyright 2018 The Lawrence Journal-World. All rights reserved. This material may not be published, broadcast, rewritten or redistributed. We strive to uphold our values for every story published.