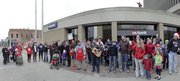 Salvation Army bell ringer Jay Mercer, of Lawrence, didn't see anything unusual when he took up his post at the corner of 9th and Massachusetts streets Saturday morning. He went about his business of bell ringing and collecting holiday donations, coin by coin, from passersby.
He took no special notice of the man playing a guitar several feet away — because there was no way for him to know the street musician was secretly coordinating a complex and closely timed operation with Mercer himself as the target.
The musician was actually Tug McTighe, executive creative director for Callahan Creek, a Lawrence marketing agency staging a flash mob for a holiday greeting card video. He and John Carlton, a Callahan copywriter, had been plotting the flash mob for weeks, even diagramming the plan in the basement of their workplace as if it were a bank robbery. McTighe and Carlton were in radio contact with organized teams hiding inside the lobby of U.S. Bank, 900 Massachusetts St., and Weaver's Department Store, 901 Massachusetts St., and with videographers and camera operators on the surrounding rooftops. Carlton said the firm had gotten permission from the building owners. A Lawrence police officer looked on as the situation unfolded.
Among the participants was Nick Kinney, a Callahan employee stationed around a block to the south. He had never been involved in a flash mob, he said, but felt confident about playing his part.
"I'm hoping everything comes together as planned," he said. "We only get one shot at it."
Elsewhere, Tracy Kim, a high school exchange student from Seoul, South Korea, grew excited and nervous as the moment of action approached. She came along as one of the many friends and family of Callahan employees who helped stage the happening.
"This is so cool," she said.
At 10:20 a.m., on a prearranged signal, several dozen bell-ringing flash mob participants emerged seemingly out of nowhere, each ringing their own bell, and surrounded Mercer. The tremendous racket and spectacle startled at least one downtown pedestrian who fled the scene, describing the situation as "surreal."
Mercer looked around him in confusion as a person in a Spider-Man costume shouted and jangled a bell from the roof of the bank, and a man in a Santa Claus outfit hurriedly approached with Callahan CEO Cindy Maude, who presented Mercer with an oversized check made out for a $1,000 donation.
After a collective shout of "happy holidays," the group dispersed in silence as suddenly as they had appeared, leaving the giant novelty check in Mercer's custody.
Moments later, Mercer said he never saw the flash mob coming and still wasn't exactly sure what had happened.
"But I liked it," he said. "It was fun."
And, he noted, the $1,000 would go toward the good cause of helping the homeless.
Copyright 2018 The Lawrence Journal-World. All rights reserved. This material may not be published, broadcast, rewritten or redistributed. We strive to uphold our values for every story published.