Photo Gallery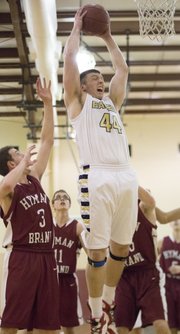 Veritas Boys vs Hyman Brand Basketball
Eudora — Thomas Bachert couldn't help but laugh as he left the Veritas Christian boys basketball locker room Thursday night at the Eudora Community Center.
Two of his classmates held up a poster they had thrown together to show their support for the 6-foot-5 Eagles senior.
"If I knew there was a sign, I would've tried harder," he joked with them after Veritas dismantled Hyman Brand, 57-27.
Bachert had room to act self-deprecatingly, because he finished with just eight points on a night when the Eagles (4-0) held significant advantages over the Rams (1-5) in size and depth.
Truthfully, there was no shame in the big man's performance, which included seven rebounds, five assists and two blocks. After the drubbing, Veritas coach Gary Hammer said Bachert displayed one of his many abilities: dumping down passes from the high post.
"A lot of times he helps us like that," the coach said. "The defense is kind of watching him, and he gets it to his teammates, especially Andrew (Currier). He helps us not only in scoring, but in passing, rebounding. He's a force."
The stout senior post player said he likes to impact the game in every way possible.
"The thing is, we've got so many threats on this team," Bachert said. "If they (opponents) want to pack in a zone, they can feel free, because we've got so many guys that can score. I don't even know where to start."
Currier, a senior, led Veritas with 14 points, sophomore Caleb Holland had 10, freshman point guard Chad Stieben scored seven, and sophomore Micah Edmondson finished with five.
Though Hyman Brand's zone collapsed on Bachert, he said that allowed his heady group of teammates to find openings.
"I don't have to have a good game, scoring-wise, for this team to win," he said. "We've got so many weapons."
While the Rams gave Veritas a little trouble early — the Eagles took a three-point lead into the second quarter — it didn't hold up.
Hammer said his team's energy picked up in the second quarter, when Veritas held Hyman Brand scoreless.
The Rams missed all 11 of their shots in the second, while the Eagles went 6-for-11 and took a 25-8 lead into the break.
Currier scored seven points in the third quarter, Veritas got its first bench production of the game with baskets from Elijah Harvey and Andrew Jewell, and the Rams trailed 42-17 entering the fourth.
After Currier, Bachert and Holland each made a basket in the fourth, Hammer took out his starters for good, up 48-17.
If the coach had any complaints after the beating, it was his team's 3-for-11 effort at the free-throw line: "That's not gonna do it in close ball games."
Still, Hammer made a point to say that he really likes the makeup of his team.
"There's always things to get better at," the coach said, "but for the fourth game of the year we're doing some things that we can build on."
The Eagles will play host to St. Mary's Academy on Saturday.
Copyright 2018 The Lawrence Journal-World. All rights reserved. This material may not be published, broadcast, rewritten or redistributed. We strive to uphold our values for every story published.