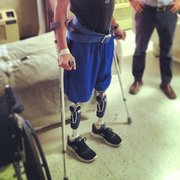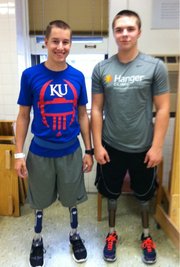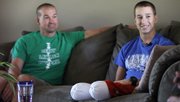 Just a week or so since getting his "new knees," as he calls them, 18-year-old KU student Colby Liston is quickly adjusting to his new hydraulic prosthetic legs.
"You can go out and do anything with them," said Liston, just hours after returning from a 10-day stay at Kansas University Hospital, where he received his prosthetic legs and some help using them.
Liston lost his legs after being hit by a drunken driver Aug. 26, just days after Liston started his college career at KU. Liston, walking behind a car parked in the 1600 block of Tennessee Street, was pinned between two vehicles, which required that his legs be amputated just above the knee.
The driver of the vehicle that hit Liston has not yet been arrested or charged, but recent alcohol tests showed he had a blood alcohol level three times the legal limit.
Through it all, Liston — bolstered by wide community support in his hometown of Derby — has stayed positive and focused on getting back to his life.
The "Team Liston" Facebook page, which is dedicated to Liston's recovery and fundraising efforts to help pay for the prosthetics, is filled with updates and pictures of Liston.
His Twitter account, meanwhile, shows that Liston — a high school football and track athlete — is a fighter.
A Nov. 27 post proclaims: "I have new knees!" along with a photo of a smiling Liston. The next day, he tweeted, "Mark this down in history as the very last time I use a wheelchair."
Liston is enrolled in online classes at KU for the spring, and he says he'll be back at KU in the fall to get going on a petroleum engineering degree.
He recently tweeted his "Rule 1" for those who may run across him as he learns his way around on his new legs: "If you see me fall, you ABSOLUTELY do not help me back up. I'm not disabled. I can get up myself."
Indeed.
Copyright 2018 The Lawrence Journal-World. All rights reserved. This material may not be published, broadcast, rewritten or redistributed. We strive to uphold our values for every story published.