Photo Gallery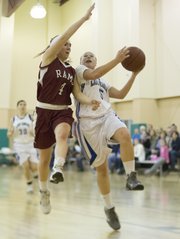 Veritas Girls vs Hyman Brand Basketball
Eudora — It hasn't taken much time for Veritas Christian's girls basketball veterans to get their youngest teammates acclimated this season.
The Eagles won their fourth straight game, breezing by Hyman Brand, 47-26, Thursday night at the Eudora Community Center, with two eighth-graders in the starting lineup.
At times in the rout, point guard Tori Huslig looked more like an upperclassman than a junior high student. Her activity and ball-handling skills carried Veritas throughout, and she finished with 17 points, nine rebounds, five steals and two assists.
In the paint, 6-foot-2 eighth-grader Naomi Hickman gave the Eagles a long defender and contributed six points, eight rebounds and a pair of blocked shots.
"We've played pretty well as a team for having a lot of new players involved," Veritas coach Kevin Shelton said. "We've got some young girls, and they've fit in, and it's really jelled so far."
Veritas seniors Madison Bennett (three assists), Kristen Finger (seven points, four steals, five rebounds), Alison Dover (10 points, eight boards) and backups Joy Brooks and Hannah Gloss worked well with their young teammates.
The Eagles' defense made the blowout possible by limiting the Rams (1-3) to three made field goals in each quarter. Hyman Brand made just 12 of its 53 attempts (23 percent) and turned the ball over 22 times.
Shelton said his team's defense has come through in each game thus far.
"We've caused enough trouble defensively that it's allowed us to have a few turnovers and still get a victory," the coach said after Veritas had 25 turnovers of its own against the Rams.
Though Hyman Brand's eighth-grader, Alexis Davis, gave the Eagles trouble with 14 points, no one else did much damage.
Huslig and Dover each scored four points in the first quarter, when Veritas took a 13-6 lead. The Eagles extended their advantage to 26-12 by halftime, behind four points apiece from Huslig and Hickman in the second.
The lead kept growing in the second half, even as Veritas turned the ball over 14 times — four more turnovers than the Rams had in the final two quarters.
The Eagles will play Tuesday at Topeka Cair Paravel.
Copyright 2018 The Lawrence Journal-World. All rights reserved. This material may not be published, broadcast, rewritten or redistributed. We strive to uphold our values for every story published.