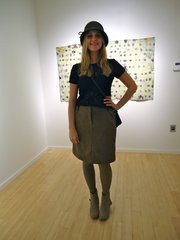 Age: 23
Relationship status: In a relationship
Hometown: Russell
Time in Lawrence: Five years
Occupation: I'm an art student
Dream job: Artist
What were you doing when scouted? Visiting the Lawrence Arts Center
Describe your style: Romantic
Fashion trends you love: Lace, classy vintage
Fashion trends you hate: Leggings as pants, neons
Fashion influences: Classic style
What would you like to see more of in Lawrence? Opportunities for students to show their art
Less of? SUVs
Tattoos or piercings? My ears are pierced.
Who do people say you look like? When I was in Korea, the locals said I looked like Natalie Portman.
Tell us a secret … I have a box full of cicada shells at home.
Copyright 2018 The Lawrence Journal-World. All rights reserved. This material may not be published, broadcast, rewritten or redistributed. We strive to uphold our values for every story published.