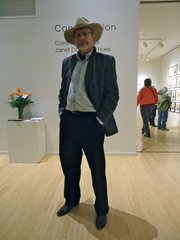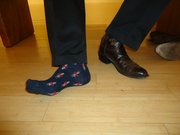 Age: 60
Relationship status: Married happily
Hometown: Lawrence. Originally from New York.
Time in Lawrence: 23 years
Occupation: Attorney
Dream job: Attorney
What were you doing when scouted? Looking at art by Janet Davidson-Hues
Describe your style: Hippie traditional
Fashion trends you love: Cuffs, pleated pants, boots, hats
Fashion trends you hate: Sweatpants, people wearing inappropriate things (whatever that means)
Fashion influences: My wife. I just buy what I like.
What would you like to see more of in Lawrence? High quality men's suits, local retail stores on Mass. St.
Less of? Chain stores, conservative Republicans
Tattoos or piercings? No
Who do people say you look like? An aging rock star
Tell us a secret … I always wear crazy socks.
Copyright 2018 The Lawrence Journal-World. All rights reserved. This material may not be published, broadcast, rewritten or redistributed. We strive to uphold our values for every story published.