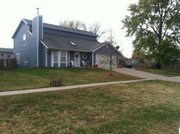 The owner of a local daycare — shut down by state officials after her home was searched by police in October — has appealed an emergency order shutting down the facility.
Tiffany C. Hubbard, who operated the Children's Playpen daycare out of her home at 766 Lake St., was the subject of a drug investigation, according to police. During a search of the daycare Oct. 24, police suspected that crack cocaine and marijuana were being sold from the home, according to a police report.
No arrests have been made, but materials seized during the search have been tested, said Lawrence Police Sgt. Trent McKinley. At this point, police are working on compiling the information before forwarding to the District Attorney's Office for review and a possible arrest warrant, he said.
The day after the search, the Kansas Department of Health and Environment — which licenses daycare facilities — issued an emergency shutdown order.
Hubbard had a preliminary hearing with the Office of Administrative Hearings on her case Thursday, but asked for a continuance to seek legal counsel.
State officials said the shutdown order remains in effect throughout the appeal process.
Hubbard has no arrest or conviction record in Kansas, according to a KBI records search.
State records show that a complaint about the day care was made in March 2010, but further information about the nature of that complaint was not available.
Hubbard's next hearing on the order is scheduled for Dec. 28.
Copyright 2018 The Lawrence Journal-World. All rights reserved. This material may not be published, broadcast, rewritten or redistributed. We strive to uphold our values for every story published.