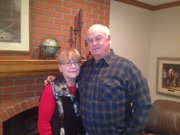 It's something felt by just about any parent who outlives any of his or her children, Vergie Anderson says: the desire to make sure people remember.
It's no different for Anderson, whose two children — Jason, 13, and Brooke, almost 6 — died in a car accident in 1980.
"One of the most important things is that they are not forgotten, that they live on," Anderson said.
And they will, through a $150,000 gift announced Wednesday by Kansas University Endowment. It's from Vergie and her husband, Mark Anderson, who live in the south-central Kansas town of Kinsley. It will fund scholarships for graduate students in KU's School of Social Welfare.
Anderson earned a Master of Social Welfare degree from the school in 1990, after earning a bachelor's degree at St. Mary of the Plains College in Dodge City in 1988. After that, she spent 20 years working as a therapist and then as clinical director at Iroquois Center for Human Development, a small community mental health center in Greensburg. That included the period following the tornado that devastated the town in 2007, forcing the center to relocate for a time to nearby Haviland.
"For someone with a social-work heart, this is just a natural choice," Anderson said in a phone interview Wednesday.
The Mark and Vergie Anderson Scholarship fund in honor of Jason and Brooke Meckfessel will provide help for graduate students planning careers in the mental health field.
For Anderson, it's a perfect fit: The gift will help students who will go on to help others, perhaps following in her footsteps as therapists or mental health administrators. Her husband, who works as superintendent of the golf course at the Kinsley Country Club, is strongly supportive of the gift as well, she said.
"The School of Social Welfare is very dear to my heart, and it plays a very critical role in addressing many social problems," said Anderson, who also serves on the school's community advisory board.
And, of course, it will help ensure that Jason's and Brooke's names live on.
Both children, who came from a previous marriage, could light up a room with their sense of humor and they shared a sense of compassion rare for their ages, Anderson said.
Jason loved music, she said, and was excited to DJ a school dance not long before the accident in 1980. And he shared a special bond with his little sister.
"She very much admired her big brother," Anderson said. "They seemed to have kind of a special relationship. He was very protective of her, but that did not preclude them from having some very serious battles at times."
She spoke highly of the School of Social Welfare, as well, saying its graduates and its faculty research have changed lives for the better around Kansas, the nation and the world.
And now Jason and Brooke will play a role in that change, too, for as long as the school exists.
Copyright 2018 The Lawrence Journal-World. All rights reserved. This material may not be published, broadcast, rewritten or redistributed. We strive to uphold our values for every story published.