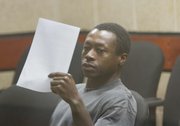 A 31-year-old Lawrence man was sentenced Tuesday to 25 months in prison for an attempted burglary in Lawrence last summer.
Originally, Ronald Kenneth Brooks Jr. had been charged with two burglary counts for allegedly entering two Lawrence homes while residents slept on July 31. One of those counts was dismissed in August because of a lack of evidence.
Brooks pleaded guilty in October to one count of attempted aggravated burglary as part of a plea deal.
The crime Brooks pleaded to occurred on Woodlawn Drive, southeast of Peterson Road and Princeton Boulevard. A resident in the home woke and found Brooks in the home. Brooks ran from the house, and an officer in the area later apprehended him near Deerfield School.
According to court records and the Kansas Bureau of Investigation offender registry, Brooks received probation for a 2004 lewd and lascivious conviction in Douglas County. Brooks also spent about four years in federal prison after pleading guilty in 2008 to aggravated assault on a U.S. Postal Service carrier in Topeka in 2008 and criminal possession of a gun.
Brooks could be sentenced up to an additional two years in federal prison for violation of his parole from the 2008 assault.
As part of the plea agreement, Brooks agreed to cooperate with police and provide information about other burglaries he was involved with. According to prosecutors at sentencing, Brooks provided information that closed numerous other unsolved burglaries.
Copyright 2018 The Lawrence Journal-World. All rights reserved. This material may not be published, broadcast, rewritten or redistributed. We strive to uphold our values for every story published.