During the holiday season, the need in the community for donations and volunteers at local organizations grows. Organizations need gifts to distribute, money, and volunteers to help with everything from serving meals to collecting donations. The list below will help you find a way to contribute during the holiday season. It includes local organizations and their needs this season.
Holiday Bureau
Holiday Bureau is a coalition of nonprofit organizations in Lawrence. The coalition, which consists of Penn House, Ballard Community Services, the Salvation Army and the East Central Kansas Economic Opportunity Corporation, recruits community members to adopt families or individuals over the holiday season. By partaking in this effort as an adopter, a person is ensuring a family or individual will receive holiday gifts, clothes and food. More than 1,000 families are adopted annually through these organizations. At least 350 families are still in need of being adopted this season. If you are interested in adopting, contact any of the organizations involved with the Holiday Bureau. You may request a family of a specific size. Adopting a whole family is not necessary. Donations of gift cards to grocery stores are also accepted. These help the families in need to receive holiday meals.
Contact information:
Ballard Community Services, 842-0729
Penn House, 842- 0440
ECKAN, 841-3357
The Salvation Army, 843-4188
Book Drive
The Toy Store, 936 Massachusetts St., is having a book drive to donate to the Ballard Center for the Holiday Bureau program. The store is encouraging the community to buy books at the store and to donate the books to the program. For every book bought and donated at The Toy Store, it will match and donate another book. The store's goal is to donate 1,000 books to the center.
Lawrence Parks and Recreation Department
Lawrence Parks and Recreation Department facilities will be collection sites for new, unopened toys to donate to an area nonprofit organization. Parks and Recreation Department facilities will have a decorated seasonal box for people to drop off the toys. The toys should be brought to the facilities by Dec. 18. They will be distributed to the nonprofit organizations by Dec. 20.
Locations
The Community Building, 115 W. 11th St.
East Lawrence Recreation Center, 1245 E. 15th St.
Holcom Park Recreation Center, 2700 W. 27th St.
Lawrence Indoor Aquatic Center, 4706 Overland Drive
Prairie Park Nature Center, 2370 Harper St.
Parks and Recreation Administrative Office, 947 New Hampshire St., Suite 200B.
Homeless and foster care children
Donated gifts of clothes, toys, CDs, gift certificates, books and school supplies are needed to give to children who are homeless or in foster care. If interested, a person will be matched with a child and given his or her wish list.
Contact information
KVC Behavioral Health, Mona Kerns: 331-4200 ext. 6638 or mkerns@kvc.org
The Villages, Inc., Diane Schulze: 267-5900 ext. 0 or dianesc@thevillagesinc.org
The Salvation Army
The Salvation Army will partner with Lawrence Walmarts to host "Fill the Truck" from 9 a.m. to 5 p.m. Dec. 8 at both Lawrence Walmart locations, 3300 Iowa St. and 550 Congressional Drive. Fill the Truck is a toy and coat drive for local children in need during the holiday season. Walmart shoppers will receive a list of suggested gifts to donate or to help fill the truck. Once the Salvation Army's collection bin is filled, it will distribute the gifts. The items donated will benefit local children who partake in Salvation Army programs all year.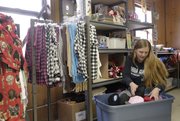 The Salvation Army is also in need of volunteers for the community holiday dinner Dec. 5. Volunteers are needed for preparation and setup, 9 a.m. to noon, and for serving and cleanup, 1 p.m. to 3 p.m.
Contact information
Maria McCluer or Liz Coleman, 843-4188
Community Living Opportunities
Volunteers are needed at Community Living Opportunities to adopt individuals who have developmental disabilities for the holidays. Community Living Opportunity works to help individuals with special needs to lead "enriched and fulfilled lives as fully integrated members of the community."
Contact information
Brett Bauer, 979-1889 or brettbauer@clokan.org
Douglas County Senior Services
The Adopt-a-Senior program at Douglas County Senior Services needs community members to provide items from seniors wish lists. Community members may also donate grocery certificates as well.
Contact information
Janet Ikenberry, 842-0543
Douglas County CASA
Douglas County Court Appointed Special Advocates (CASA) needs volunteers to donate Christmas stockings and gifts. CASA works to give children removed from their homes and placed under court protection attention, and the stockings will go to abused or neglected children from ages 3 months to 18-years-old.
Contact information
Douglas County CASA, 832-5172
Douglas County AIDS Project
The Douglas County AIDS Project is in need of gifts, and gas and food certificates for people of all ages. The organization provides care for community members affected by HIV/AIDS, and the donated gifts and certificates will go to those clients.
Contact information
Courtney Buchholz, 843-0040
dcapccc@sunflower.com
Douglas County Toys for Tots
Donations of new, unwrapped toys, as well as money to purchase toys, are needed for the Douglas County Toys for Tots. The toys will go to less fortunate children in Douglas County. Volunteers are needed for the Christmas Toy Show too. Douglas County Toys for Tots is the community branch of the U. S. Marine Corps Reserve Toys for Tots Program. It often helps families and children who do not qualify for help from other organizations or programs.
Contact information
Mary Jones 766-3023
Lawrence Community Shelter
The Holiday Gift Program at the Lawrence Community Shelter is in need of donations for gifts. Items needed include sleeping bags, camping gear, toiletries, blankets, coats, warm clothes, coffee and cereal. Community members may request a full wish list. All items will go to homeless in the community.
Contact information
Diane Huggins 832-8864
Tiny-k Early Intervention
Tiny-K Early Intervention, is an organization that provides support to children from birth to 3-years-old who have a disability or developmental delay. It needs volunteers to provide Christmas dinner and gifts to tiny-k families.
Contact information
Dena Bracciano, 843-3059 or tinykdena@sunflower.com
Lawrence Blue Santa Program
The Lawrence Blue Santa Program is in need of monetary, gift and grocery store gift card donations and volunteers. The program is run by the Lawrence Police Department and provides toys and food to residents of Lawrence who are less fortunate or in need. The families in the program receive a gift card to a grocery store for their holiday meal, and every child in the family younger than 17 receives three wrapped gifts.
Contact information
Lisa Wilcox, 830-7435
Copyright 2018 The Lawrence Journal-World. All rights reserved. This material may not be published, broadcast, rewritten or redistributed. We strive to uphold our values for every story published.