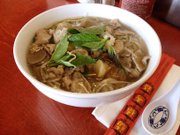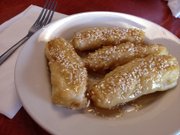 The Pho Combination Bowl is Little Saigon Café's largest, beefiest bowl of pho — a steaming, fragrant Vietnamese beef broth soup with noodles, bean sprouts, scallions and basil. And unless you eat beef tripe (stomach/intestines) and tendons (connective tissue) regularly, it's safe to say it's also their most exotic.
This dish is packed with sliced beef, meatballs, tripe (white, fibrous and, ah, textured) and tendons (gelatinous, collagenous and melt-in-your-mouth).
A sign on the door of the restaurant, which opens at 10 a.m., defines pho for newbies and notes: "Pho is perfect for any time of day, breakfast, lunch or dinner."
Where to get it: Little Saigon Café, 1524 B W. 23rd St.
What you'll pay: $8.50, plus tax
Try it with: A swirl of hoisin sauce and a swirl of sriracha sauce, stirred into the broth for extra flavor and heat. Little Saigon's owners say this is the way they like it.
Also on the menu: All things Vietnamese — spring rolls, pho with chicken or beef, bun (vermicelli noodles), beef stew, meat or vegetarian entrees and bubble tea. For dessert, there's fresh fried mini donuts or honey fried banana topped with roasted sesame seeds.
Restaurant website: littlesaigonlawrence.com
Copyright 2018 The Lawrence Journal-World. All rights reserved. This material may not be published, broadcast, rewritten or redistributed. We strive to uphold our values for every story published.