They aren't kidding when they call it the Ugly Sweater Run.
Photo Gallery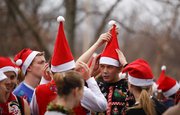 Ugly Sweater Run
Images from the Ugly Sweater Run on Saturday in downtown Lawrence.
Among the specimens on display in Watson Park on Saturday, in a crowd of 2,500 runners, were some sweaters seemingly designed to offend: pink with green gingerbread houses, white with pink flamingos, rainbow stripes, and standard red and green. Neal Ballard, of Lawrence, wore a green Looney Tunes sweater that he purchased just for the 5K. He did not accept one of the free fake moustaches offered at registration, though many did. Queuing up for the run with a cup of cider in his hand, Ballard said he wasn't interested in coming in first place.
"It's all about shopping for the ugly sweater," he joked. But it was also, he said, about having fun and supporting a good cause. As part of the event, runners were encouraged to bring gifts for Douglas County Toys for Tots. At least 1,000 toys were collected, said Jenna Velardi, a spokeswoman for Human Movement, an event-planning agency staffing Saturday's run.
Brought to Lawrence by the creators of October's Color Run, the "ugliest 5K on the planet" also visits cities such as Las Vegas, Chicago and Moscow this year. Bob Sanner, a sports marketing manager for the Lawrence Convention and Visitors Bureau, helped supervise the run and said organizers chose Lawrence partly because the Color Run had been a success.
The 5K route wound its way from Watson Park to the corner of Seventh and Tennessee streets and back, but that was only a part of the festivities, which included complimentary beers, holiday music, funnel cakes, snow machines, and an ugly sweater contest.
Like the 5K, the contest drew participants from several cities in Kansas and even out of state. But Megan Meyers, of Lawrence, impressed the crowd with a big reindeer face sewn on the front of her sweater and won the "women's homemade" division.
"It's a huge honor," she said. "I tip my cup to the competition."
Copyright 2018 The Lawrence Journal-World. All rights reserved. This material may not be published, broadcast, rewritten or redistributed. We strive to uphold our values for every story published.