Costumed horses and wagons traveled from as far as Oklahoma and South Dakota for Saturday's 20th annual Lawrence Old-Fashioned Christmas Parade, and spectators likewise came from miles around to see it. One of few horse-drawn parades in the Midwest, it drew 113 official participants this year, meaning more than a thousand riders paraded down Massachusetts Street. The parade is managed by a nonprofit organization and supported by local businesses.
Photo Gallery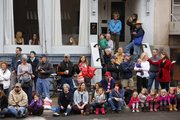 Downtown Christmas Parade
Images from the 20th annual Lawrence Old-Fashioned Christmas Parade.
With so much to see, some spectators have learned where the best seats in the house are. Zoann McConchie, of Kansas City, Mo., found a spot on Seventh Street where the parade stopped for traffic on its way downtown. With the parade slowed, she had a better opportunity to see everything and even talk with the riders.
"Everyone's willing to talk about their buggies, and how old the horses are," she said. "I learn a lot, and even go home and read more about them."
The most audible reaction from the crowd came when Nancy McConnell, of Pleasant Hill, Mo., rode through on a small carriage pulled by Angel, a miniature Sicilian donkey who stands less than three feet tall at the shoulder.
McConnell said she took the 7-year-old donkey to many parades, but this one in Lawrence was her favorite.
"It's the best organized and the most fun," she said. "It's just friendly."
Angel was a favorite of Tucker Corbin, 7, of Lawrence. His grandmother Robin Corbin said he had worried the donkey was pulling too much weight, but she managed just fine.
Some of the parade riders brought wagons and costumes of a historical period, such as the Nicodemus Buffalo Soldiers from Plainville, or the Commanding General Color Guard from Fort Riley. Others decorated themselves in Christmas gear, including Santa Claus himself, who came last, clinging to the back of a wagon piled high with presents. And not surprisingly, with hundreds of horses passing through downtown, the parade was completed with a city street cleaner trailing behind at a safe distance.
Copyright 2018 The Lawrence Journal-World. All rights reserved. This material may not be published, broadcast, rewritten or redistributed. We strive to uphold our values for every story published.