Photo Gallery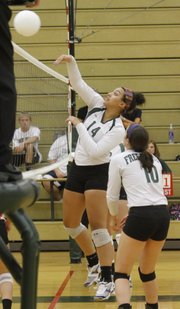 Free State home volleyball triangular 8-30-2012
On the brink of seeing her team lose a match in its season-opening home triangular Thursday night, Free State High volleyball coach Nancy Hopkins needed a way to get the Firebirds' attention.
FSHS had already swept Lansing, and Hopkins didn't want to see a potentially good night ruined by Topeka Seaman, which led by as many as five points roughly midway through the third and final game. So the 16th-year Firebirds coach changed her tone in a huddle.
"Sometimes you've got to get brutally honest with them and say what they may not want to hear," Hopkins said.
With that, Free State battled back to knock off the Vikings, 25-18, 19-25 and 25-22.
Seaman held a 17-14 advantage when the Firebirds (2-0) began stringing together plays. Senior Bailey Harrell scored a point with a tip to key a 5-0 run. Later, junior Grace Miller tied the deciding game at 20 with a kill. Then senior Faythe Brungardt served an ace, and Ashley Powers set up Miller for another huge kill.
Though the Vikings regrouped and tied the game at 22, back-to-back Seaman mistakes, as well as a flying dig by senior Katy Davis, set the table for the match point, a Kylie Dever assist to Miller for one last kill.
Senior Molly Ryan, who had three kills and a block in the final game of the night, said the match was intense.
"A lot of times you've just got to dig down deep and get that one good play," Ryan said, "and usually that one play makes you able to push through."
Hopkins said improved passing keyed Free State's turnaround versus Seaman after it handled Lansing, 25-22, 25-22. She said the Firebirds showed they have a lot of talent in their opener.
"It's nice to know they can come back from a deficit, I'll put it that way," she said. "But I'd rather they not build that hole to start with."
Junior Morgan Knapp said the Firebirds didn't mind being challenged after having an easier time against Lansing.
"Seaman fought back a lot more and gave us a more competitive game to go off of," Knapp said.
On Sept. 6, FSHS will play at Olathe South's quadrangular.
Copyright 2018 The Lawrence Journal-World. All rights reserved. This material may not be published, broadcast, rewritten or redistributed. We strive to uphold our values for every story published.