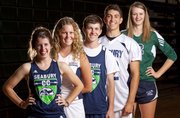 From a defending state champion to a resuscitated program, expectations fluctuate considerably for the sports teams at Bishop Seabury Academy this fall.
Here's a look at each of the Seahawks teams and their objectives for the season.
Cross country
After the girls cross country runners won the Class 1A state championship last fall, both of Seabury's teams are brimming with anticipation.
"The boys really felt a part of that, too," coach Christi Douglas said of the school's first state title.
Senior Maddie McCaffrey, juniors Kate Albrecht, Heidi Dumesich, Phoebe Grabill and Eilish Gibson, and sophomore Addie Graham — the six runners who led the Seahawks to a championship in 2011 — all return.
Can they repeat?
"They all would like to be state champions again," Douglas said, "but they know it takes a lot of week-to-week work."
The girls' work ethic, the coach added, should allow them to improve throughout the fall.
As for the boys, last year's state qualifiers, senior Brandon McCaffrey and junior Marcus Allen, are back. This season, the Seahawks aspire to qualify their whole team, which includes senior Michael Kressig, juniors Thomas Westbrook, Patrick Gutierrez and Kit Rice, and sophomore Jasmin Yoon.
The runners' season gets started Saturday at Topeka-Hayden.
Football
The Seahawks return to the gridiron this fall for the first time since 2009, when injuries forced Seabury to suspend its young football program mid-season.
The school's athletic director, Eric Nelson, took a conservative approach with this year's schedule. The Seabury calendar consists of only five games.
There are just 13 players on the roster for coach Aaron Combs and his eight-man squad.
"We're iron hawks," the coach said. "Everybody's got to be able to do more than one thing."
The team's lone senior, Fischer Almanza, doubles as the only player with high school football experience. He played as a freshman at Seabury.
Combs said juniors Joe Simpson, Allen and Gutierrez will be key players as well.
Considering the program's brief history (Seabury played its inaugural game in 2008), Combs knows health will be key.
"Our numbers are so short, we don't really have room for error," he said.
Seabury's first game is Sept. 7 at Topeka Cair Paravel.
Girls tennis
Last year, in John Richey's second season coaching Seabury's girls tennis team, the Seahawks went 5-3 in head-to-head match-ups and qualified their top doubles team for the 3-2-1A state tournament.
With the No. 1 doubles duo of senior Raquel Dominguez and junior Alicia Cotsoradis back and prepared to build upon their 2011 success, Richey can't help feeling good about his third year with the program. Plus, the coach has more reasons to be optimistic.
"Our top singles player, (senior) Emilie Padgett, has worked hard this offseason, and is a talented player that has a great chance to qualify for state this year," Richey said. "Our group gets along exceptionally well and has great team chemistry."
Joining the Seahawks' core group of players on the courts this fall are junior Elizabeth Padgett and freshmen Rebecca Hampton and Abby Padgett.
Seabury plays Sept. 8 at Hiawatha.
Volleyball
Although Seabury's volleyball team finished 10-25 last season, coach Chrissy Leuty thinks the Seahawks' group of seniors could help the program go even farther than the sub-state semifinals — its all-time best postseason finish a year ago.
Seniors Alexa Gaumer, a setter, and Courtney Hoag, a middle hitter, return for Seabury, which also adds transfer Sarah McDermott, a senior who played last year at Veritas Christian. Senior Maddie McCaffrey and sophomore Reilly Malone are returning starters, and Leuty anticipates freshmen Ellen Almanza, an outside hitter, and Taylor Hodge, a libero, could play key roles in the rotation.
"The team spent most of the offseason devoted to improvement through club volleyball, college camps and summer workouts," Leuty said. "They have all put in an awful lot of time to ensure that this is a team that will make an impact."
The Seahawks' chemistry and their love for volleyball and competition have impressed the coach: "These qualities are crucial and not something every team has," she said.
Seabury's season begins Thursday at Jackson Heights.
Copyright 2018 The Lawrence Journal-World. All rights reserved. This material may not be published, broadcast, rewritten or redistributed. We strive to uphold our values for every story published.