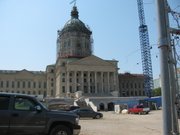 Topeka — State elected leaders on Monday added another $12.4 million to the ever-increasing price tag for the Statehouse renovation project, which is now pegged at approximately $332 million.
Gov. Sam Brownback put together a proposal that he said will complete the project.
"It's time to get it done," said Brownback, who expressed frustration with the project's cost, which started more than a decade ago with original estimates at $90 million.
The new funding includes $7 million from the Kansas Department of Transportation, which said those dollars will come from operational savings and federal funds, and $5.4 million in bonds.
The funds will finish a visitor's center, which is currently a shell; and go toward landscaping, sidewalks, driveways and removal of a huge crane. Funds to fix the Capitol's roof and copper dome have already been approved.
The project is now scheduled to be finished by the end of 2013.
The State Finance Council, which includes legislative leaders and is chaired by Brownback, voted 7-1 for the new funding.
House Minority Leader Paul Davis, D-Lawrence, said legislators are frustrated with the costs of the renovation and restoration of the historic building, but said it would be an injustice if the visitor's center wasn't completed.
"This building belongs to the people and they ought to have a place where they can gather," Davis said.
State Sen. Carolyn McGinn, R-Sedgwick, was the lone dissenting vote against the new funding. McGinn said she opposed tapping KDOT dollars, saying that state officials continue to use highway funds as a "slush fund." She also said she thought the full Legislature should have voted on the proposal instead of only the Finance Council.
Statehouse Architect Barry Greis said the visitor's center on the north side of the Capitol will include a marble floor inlaid with a state map donated by the Kansas Association of Counties. There will be an an auditorium, classroom, two large restrooms, an area to relax and eat lunch, an interview room for legislators, and a possible "meditation room," he said.
In addition to the new funding, the project's contractor, J.E. Dunn Construction Co. has identified $5 million in savings that will be plowed back into other areas of the project, officials said.
Brownback appeared obviously frustrated by the project. "It's time to get it done," he said, adding, "I haven't been the biggest fan of this project."
House Speaker Mike O'Neal, R-Hutchinson, said he thought some of the items, including the entrance and exit to the visitor's center, had already been financed.
But Greis said that was not the case and that he regretted if there had been a misunderstanding.
Brownback also asked about a private group that had been set up to raise funds for the visitor's center. But Greis said the group had been waiting to see what the state would do, and that it wanted to raise funds for enhancements to the visitor's center.
Brownback and several legislators were adamant that the project be completed by the end of 2013. "It's done. End of next year, we're done," Brownback said. He added that the new copper roof will be shiny like a new penny, "but it will cost a lot more than that."
Copyright 2018 The Lawrence Journal-World. All rights reserved. This material may not be published, broadcast, rewritten or redistributed. We strive to uphold our values for every story published.