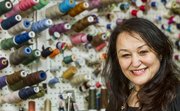 Hala Safadi was perfectly satisfied taking care of her two children and working a few hours a week at Hancock Fabrics, 2108 W 27th St.
"It was lovely," she said.
Then her mother showed up for a visit from Jordan. A long visit.
Seventeen years later, Safadi, of Lawrence, owns her own business, Kim's Alterations, 2201 W. 25th St., with a customer base she calls family and a job she calls "a dream."
She didn't expect that to be the case when she started.
"There was no way I was going to be doing this for 17 years. That was just her (Safadi's mother's) dream, and I wanted to keep her happy for some time."
Safadi spends her days in her small shop surrounded by clothes, colorful thread and her television. Her hand moves up and down with a needle, patching ripped jeans, fixing hems and letting out or taking in dresses. In an average week, she alters more than 75 items of clothing. Her job: "To make the customer look good."
"Alteration is like an art, I swear," she said. "You work it somehow, it's like magic, I swear."
Such works of magic include figuring out how to fit a panicked bride into a dress, now 7 inches too tight, or how to sew Velcro into a pair of pants so a male entertainer can easily take them off.
"That was fun," she said laughing.
Safadi didn't learn how to do this magic on her own — her mother taught her. In 1993, her mother, a former seamstress, came for a visit, wishing to see the United States. Around that time, the original Kim of Kim's Alterations approached Safadi, whom she had met while buying fabric, to tell her she was selling the business. Safadi's mother wanted to capitalize on the business opportunity.
So the two bought the business, keeping its old name and making Hala the new "Kim."
"Everybody calls me Kim and I'm OK with it," she said. "They see me on the street and they're like 'Hi, Kim.'"
Safadi's mother ran the business as Hala learned, taking care of her two children, both under 3 years old, in the shop.
"I had the playpen," she said. "I had the little bed. I had everything. Customers were sitting and playing with the kids. It was a lot of fun."
Somewhere along the way, her mother's dream became Safadi's dream.
"The money is good. I own this place. I have no rent, I have nothing. My hours are not that hard. So I'm playing the game now. I'm taking it easy."
Her mother has now returned to Jordan. Safadi's kids are now almost grown, her son 17 and her daughter a freshman in college.
With her family gone, she now looks to her customers.
"I have no family here. My customers are my family, my friends. So I work around them to make them happy."
She must be doing something right because Safadi said she has had some of her customers for more than 15 years.
"My friends, my customers, they come in here and pull up a chair," she said. "Even if they have no work they come in here and talk."
Safadi said that she could not have picked a better way to spend her life.
However, Safadi does not think that she will have a third generation running the operation: "My daughter has no interest. That makes me sad big time."
Her daughter wants to start out in journalism.
Copyright 2018 The Lawrence Journal-World. All rights reserved. This material may not be published, broadcast, rewritten or redistributed. We strive to uphold our values for every story published.