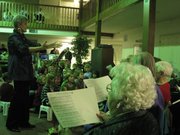 Join a choir
Those interested in joining Capo, for children ages 3 to 5, and Cadenza, for first- through third-graders, can go to lawrencechildrenschoir.org to download a registration form, or they may enroll on the first day of classes, 4:45 p.m. Tuesday at Free State High School, 4700 Overland Drive.
Those interested in joining Crescendo should contact their retirement home activities director or the LCC Artistic Director Carolyn Welch at 785-760-3809.
Though they range from age 3 to 97, the members of the Lawrence Children's Choir and its senior counterpart, Crescendo, have more in common with each other than they might realize.
"Each group gets excited about coming together to learn a new piece," says Janeal Krehbiel, who retired as the organization's artistic director in June. "They all enjoy the chance to feel like they have done something to grow and be fruitful."
Crescendo — which, in music terminology, means to grow or become fuller — rehearses once a week at Presbyterian Manor for about eight weeks before performing with the LCC preschool and elementary school-aged children, says new Artistic Director Carolyn Welch.
"The younger kids are so curious about the lives and perspectives of the older people, and the seniors just light up because they love spending time with them," she says. "The common bond that forms in sharing the same songs across generations is a very powerful thing."
Mary Burchill, 77, says the kids are amazed that the seniors know the same songs they do.
"They're learning some of the old folk songs that we learned when we were kids, like 'Skip to My Lou,'" she says. "Of course, they think these songs are brand new."
•••
Krehbiel, who co-founded the LCC with her sister in 1991, says she was inspired to start a senior citizen choir when her parents moved to Presbyterian Manor in 2009.
Krehbiel says that her father, Harry Crabb, kept saying how much he was going to miss singing once he'd moved to Lawrence from Moundridge, where he sang in the Eden Mennonite Church choir for 50 years.
Eighty-eight-year-old Crabb says he plays trumpet for one hour every morning after breakfast and sometimes finds a crowd of listeners in wheelchairs gathered outside his apartment door of the retirement home's assisted living floor.
"It's a great retirement activity, though you have to keep in shape," he says. "I feel pretty cheap inside when I don't hit those high notes."
Crabb says he took to playing again as a distraction as his ailing wife lived out her final days.
"Life would be empty without music," he says.
•••
Although seniors from other retirement homes such as Brandon Woods and Drury Place have participated in the past, most of the Crescendo singers are Presbyterian Manor residents with varied musical backgrounds.
At first, many people felt inadequate or worried about their ability to sing or be productive in a choir, Krehbiel says.
"It had been a long time since I'd performed, probably at least 50 years," Burchill says. "I never thought about singing with a group, but it certainly brings back some of the feelings of exuberance you had when you were younger."
Some people were told as children to stand in the back of the choir and mouth the words of songs during music class because they were told they couldn't sing, Krehbiel says.
"Some of my greatest, most fulfilling artistic experiences happen when I'm not with the most select group of people," she says. "Everyone should have a chance to learn to sing."
With a little convincing from Krehbiel and some large-print sheet music, Crescendo slowly took off and now has about 25 members, Welch says.
"Our rehearsals are much like any other choir rehearsals. We don't dumb down the music at all," Welch says. "We sing four parts with complex harmonies and pay attention to diction and musicality and all things that make a choral performance a good one."
•••
Ken and Pat Blair say they enjoy participating in Crescendo because it gives them an opportunity to develop camaraderie and get to know other Manor residents better.
The couple met in junior high school and started dating during their senior year at Topeka High when they were reunited in an honors music class in 1952.
"Music brought us together," Ken says. "We were devastated when the governor made cuts for arts. He has no idea what effect that has."
Chorus America recognized the Lawrence Children's Choir's unique pairing of children with senior citizens by awarding it the 2012 Education Outreach Award at the 35th Annual Conference in June.
"Awards like this really help validate that what we're doing is important and makes a difference," says LCC Executive Director Jane Roesner Graves. "It's hard to get that recognition, especially during a time when state and national budgets for the arts are really under attack.
"When you're in the arts, you're not in it for money. You're in it because you believe in how it can be a transformative experience."
Other award recipients at this year's conference included big-name choirs from major U.S. cities such as New York, Los Angeles and Philadelphia.
"I think that speaks volumes for the quality of program we have," Roesner Graves says. "We're known throughout the nation and we do a lot of good for Lawrence. Those kids really feel proud of themselves, and you can tell by the joy on their faces."
It is the duty of all artistic directors to educate people at both ends of the age spectrum, Krehbiel says.
"Music is a gift until the end, and it gives hope to both young and old people," she says. "There's something very beautiful about seeing a 6-year-old holding the hand of an elderly woman in a wheelchair."
Copyright 2018 The Lawrence Journal-World. All rights reserved. This material may not be published, broadcast, rewritten or redistributed. We strive to uphold our values for every story published.