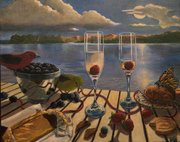 See more art
A solo exhibit of Nancy Marshall's work will be on display through Friday in the McAfee Library at Park University, 8700 N.W. River Park Drive, Parkville, Mo. To see more of her work — including a virtual tour of her exhibit at the University — visit nlmstudio.com.
For more information on this year's Lawrence ArtWalk, scheduled for Oct. 27-28, visit lawrenceartwalk.org.
Nancy Marshall's River Series paintings aren't exactly landscapes. And they aren't exactly still lifes.
They're both — depicted in saturated color and detail, with touches of mystery and fantasy that convey both nature's beauty and people's indulgence in a single frame.
Pieces from the River Series, Marshall's most recent themed body of work, are the centerpiece of an exhibit in Parkville, Mo., and will be featured on this fall's Lawrence Art Walk. The series joins other examples of Marshall's signature work, including bird's-eye tabletop scenes and portraits.
Marshall, who formerly taught art at Topeka High School, grew up in Hannibal, Mo., near the banks of the Mississippi River. For her, rivers represent adventure and freedom, and her own recreational voyages include canoeing on the upper Missouri, a Wilderness Society Camp in Rocky Mountain National Park and, in May, a rafting trip on the San Juan.
Her River Series paintings are more fantastic than photographic.
Canvasses depict still lifes — of sumptuous picnics with champagne and fruit or plein-air breakfasts with coffee and pastries — that give way to rivers, both swirling and placid, on the horizon. Wildlife dots the scenes, from butterflies alighting on a plate to distant blue herons partially obscured by mist.
Beyond the power and beauty of America's rivers, Marshall is concerned with their ecological health and hopes her paintings might inspire social consciousness.
"I like the idea that people understand where their water comes from and the importance of having clean water," she says. "It all comes down to political decisions that are made."
In her portraits, Marshall also takes a carefully arranged approach.
Besides the likeness of her subjects, she inserts their prized possessions, their home landscapes and sometimes even their loved ones into the composition.
"We define ourselves by things we choose to have around us," she says. "So putting those in a painting adds to who we are as a person."
Topeka sculptor Jim Bass, whose late wife was a high school teaching colleague of Marshall's, noted Marshall's attention to detail and ability to balance color and composition. He also commended her portraiture.
"Portraits are scary things to take on," Bass says. "She just jumps in there where angels fear to tread."
Cindi Morrison, director of the Mulvane Art Museum at Topeka's Washburn University, facilitated the purchase of one of Marshall's bird's-eye tabletop still lifes for the museum — entitled "Coffee and Cards by Candlelight" — and also bought two river-inspired prints for herself.
Morrison calls Marshall's paintings "almost surrealistic."
She notes the detail of a hamburger on a plate carried by the woman in "Ogallala Siren" and the mystery surrounding paintings of riverside picnics sans people — is someone getting ready to eat, mid-picnic or already finished?
"They're like imaginary — kind of dreamlike — moments in time," Morrison says. "That's kind of what draws me to her work. It's not your run-of-the-mill still life — it has extra layers to it."
Copyright 2018 The Lawrence Journal-World. All rights reserved. This material may not be published, broadcast, rewritten or redistributed. We strive to uphold our values for every story published.