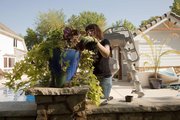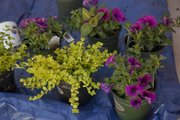 Now is the perfect time to spruce up a heat- and drought-stressed landscape with fall-blooming and cool-weather-loving plants.
Containers especially can benefit from having a few plants replaced, and the right selections will brighten the landscape through autumn and possibly early winter.
Laurel Sears, landscape designer and colorscape specialist with Lawrence Landscape, says this is also a good time to change the tone of the landscape by mixing in fall color.
"Pinks, purples, reds and yellows are great bright summertime colors, but I like to mix in bronzy burnt oranges and chocolately purples to reflect the changing leaves," she tells me. She is planting a purple flowering kale in a white window box at the Liz and Gary Hamm residence in Lawrence as we speak. A bronze-purple coleus, chartreuse creeping jenny (Lysimachia), petunias and beggarticks (Bidens) will accent the kale, adding color and interest to the planter.
"I'm really big on texture," Sears adds. "Kale, chard, ornamental cabbage and red mustard are excellent in containers. They've got height and color and go into the cold temperatures well."
In another container, a large, blue, glazed ceramic pot, Sears is removing tired petunias and replacing them with red salvia, white begonias and another coleus. A corkscrew rush will stay in the pot, along with a chartreuse sweet potato vine that hangs over the pot, adding dimension.
I quickly realized the main reason my own containers take so long to fill in — Sears is using more plants per container.
"Don't be afraid to pack them in," she says. "That's one of the great things about containers — these plants have pretty small root systems, and you're planting for a single season. You'll get a lot more effect that way."
Sears also recommends watering and fertilizing containers regularly. Drip irrigation is a great option for large pots, especially for travelers or in summers like the one we just experienced. Check with your irrigation provider to determine whether a system is cost-effective. For fertilizer, a slow-release granular product works well and can be applied about every six weeks. Liquid fertilizers are also good for container plantings but are more difficult to apply.
Pot size and color seem less important than what goes in the pots, but if purchasing a new container, make sure that it is large enough for the effect you want and that it has drainage holes. If the pot will hold a large plant, it should be substantial enough to anchor the plant even in strong winds. If the pot will drain somewhere that could leave an unsightly stain, use a saucer or cork mat to soak up the overflow.
Sears (and Kansas State University specialists) recommends using a soilless potting mix for best results. There are several commercially available potting mixes that are formulated for optimum root growth and good air and water movement.
Another tip from Sears for creating great containers is to follow the old advice of thriller, spiller, filler. The thriller is a taller plant with a lot of visual interest; the spiller is a plant that drapes or vines over the edge of the container; and the filler is the plants that are used to fill the space between the thriller and spiller.
I am ready to do some planting!
Copyright 2018 The Lawrence Journal-World. All rights reserved. This material may not be published, broadcast, rewritten or redistributed. We strive to uphold our values for every story published.