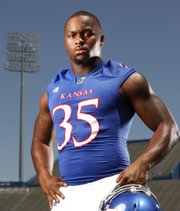 I've talked before about visual style and how each Journal-World photographer gravitates toward creating a particular look in the photos we create. I think more often than not that when I'm unhappy with a photo it's because there is not sufficient separation between the subject and the background.
Often when I shoot portraits, I will add a rim light behind my subject to help define the edges. A little bit can give the aforementioned separation. Too much can make your subject appear as though they are standing in front of an oncoming vehicle.
A good practice to follow with portraiture while using multiple lights is to situate your subject and your key light (main light source) first. After you have adjusted the power of your key light to get a nice exposure, you can then add a rim light.
Typically, what I will often do is position the rim light directly behind the subject or slightly out of frame and directed at the backside of the subject.
In the accompanying photo of Kansas defensive end Toben Opurum, I used two lights. The first, my key light, was positioned at camera left at about a 45-degree angle from Opurum and pointed slightly downward. The backlight or rim light is opposite the key light, behind Opurum at camera right and out of the frame.
The highlights around his arms and his cheek are created by the rim light and help to define him as the big, muscular guy that he is.
One more thing to note is that when I use rim lights, I typically trigger them with a remote device. But as Mike Yoder mentioned in last week's Behind the Lens column, you can purchase flash units with built-in sensors that can be triggered by the burst of light from another flash unit.
Copyright 2018 The Lawrence Journal-World. All rights reserved. This material may not be published, broadcast, rewritten or redistributed. We strive to uphold our values for every story published.