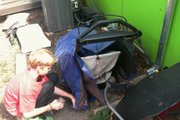 The dry, warm weather hampered 11-year-old Quinton Westphal's lawn mowing business this summer.
"It was so hot," said Quinton, with a shrug of the shoulders and a "what can you do?" expression.
But it wasn't enough to dampen the young entrepreneur's spirit, as Quinton said he made the best of it, pointing to several yards he mowed in his east Lawrence neighborhood.
The $120 or so that he earned this summer was a little less than he'd expected, however.
That Mother Nature can cut into a bottom line was the second business lesson Quinton had to learn the hard way this year.
Quinton spent a year saving $250 for a new lawn mower to start his lawn mowing business by collecting cans, selling homemade duct-tape wallets and socking away his birthday money. Last May, just a couple of days after Quinton and his dad, Schuyler, bought a new mower, it was stolen from the family's backyard. Quinton thought his dream of his own mowing business had rolled away with the mower.
But minutes after a Journal-World story went online detailing the theft, calls and emails started coming in, with a slew of good Samaritans offering to buy Quinton a new mower.
Lawrence cardiologist Roger Dreiling, who operated a lawn mowing business in his youth, was the first to contact the family and bought Quinton a new mower.
Quinton showed off the new mower, which he said works great and is actually a more expensive model than the one that was stolen.
And like many small businesses that have been negatively affected by this summer's weather, Quinton is already looking forward and planning for next year.
He's been working on early designs for a flier he'll pass out this fall, hoping to get the jump on the competition come next year.
Copyright 2018 The Lawrence Journal-World. All rights reserved. This material may not be published, broadcast, rewritten or redistributed. We strive to uphold our values for every story published.