The kick of a mustang is always a bit misunderstood.
Cindy Branham — with a silver cross around her neck and a horse whip in each hand — watches the big pinto mare thrust its hind legs in Branham's direction.
Branham simply flicks one of her two whips, the one with a tattered plastic shopping bag from Target tied to its end. The plastic bag ruffles up against the hind quarters of the mustang, and Branham gently chides the wild horse for turning its tail toward her.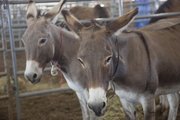 Then she offers a brief explanation to the crowd who had gathered around the corral in the Douglas County Fairgrounds arena, and was still a bit stirred up from the kicking display.
"If she wanted to kick me in the head, she would have done it already," said Branham, a professional horse trainer from Topeka. "Their aim is perfect."
It pays to have good aim in the wild, and as everyone at the fairgrounds on Thursday already knew, these horses are all wild. Officials from the Bureau of Land Management captured the horses off of the open range, with most of the 35 horses and three burros coming from the deserts of Nevada.
"She's not really trying to hurt me when she kicks," Branham says. "She's just trying to figure me out. She sees me as a predator, and she wants to know whether I'm going to try to eat her."
Branham is not. What she is trying to do is persuade someone in this crowd to take home a wild mustang.
Crews from the Oklahoma field office of the Bureau of Land Management travel all over the Midwest hosting wild mustang and burro adoption events like the one that will take place at the community arena of the Douglas County Fairgrounds today and Saturday.
The reason is simple: There are more wild horses than there is open range land of the West to support them. The Bureau of Land Management estimates there are about 40,000 wild horses that graze on public lands in the western United States. That number needs to get down to about 27,000.
"We have a responsibility to the land, and we have a responsibility to the horses," said Paul McGuire, a public affairs specialist for the Bureau of Land Management. "It is an important, and increasingly difficult, balancing act."
The BLM last came to Lawrence 10 years ago to host an adoption event. Back then, 108 horses and burros were adopted by area residents. This year, the BLM will be pleased if 20 horses and burros are adopted. At the opening round of the event on Thursday afternoon, one horse and three burros were adopted.
The drought and the economy have made it more expensive to care for a horse, and the adoption numbers have dwindled nationally from about 10,000 a year to about 3,000.
As a result, the Bureau of Land Management now has about 40,000 horses that have been taken off the western range and are kept on rented pastures — there is one in Cassoday — paid for by the federal government.
"But we can't keep doing that for the long term," McGuire said.
So McGuire and a crew of horse handlers travel the Midwest doing adoption events and encouraging people to visit — of all places — the Hutchinson Correctional Facility, which operates a program where inmates train the horses and then offer the animals up for adoption.
The government even offers a $500 cash incentive for people who are willing to adopt an animal that is 4 years or older. The program also has its own marketing slogan: "Adopt a living legend."
McGuire said there is a lot of truth in that phrase.
"They are rugged and intelligent animals," McGuire said. "The herd has survived on difficult landscapes for hundreds of years. They really embody a lot of our experiences as a people and a nation."
The Lawrence event runs from 8 a.m. to 6 p.m. today and from 8 a.m. to noon on Saturday at the Douglas County Fairgrounds, 19th and Harper.
Adopting one of the animals involves paying a $125 adoption fee and affirming that you have no history of animal abuse and that you have the proper corral space and access to feed and water for the animal.
As much as BLM officials want people to adopt the animals, they also are upfront with the crowd that it may not be for everyone.
Kristi Billinger adopted her first mustang about 12 years ago. Now, the Wellsville area resident is one of the leaders of the Midwest Mustang and Burro Saddle Club.
Billinger said it is not impossible for somebody new to horses to successfully adopt and train a wild mustang, but she said it likely will take a lot of help from a professional trainer or volunteer groups like hers.
She said even experienced horse owners may get taken off guard by the spirit of a mustang.
"The BLM sets a standard that you have to have a 6-foot-high corral fence," Billinger said. "A lot of people think their 5-foot fence will be fine. They think that right up until they see their mustang jump over it."
Billinger said there is no easy answer for how long it takes to break a mustang to the point that it will accept a halter or a saddle. She's had some that have taken to a halter in a day. She's had others that can't be touched for a month.
"But that first time they let you touch them is the greatest thing," Billinger said. "Because you can't touch them if they don't want you to. Most of the time, the nose is the first place they'll let you touch them. When they let you do that, you know they've given you their heart."
Branham has trained all types of horses during her career, but she too says there is something special about the connection that is made with a mustang.
Part of it, she said, is knowing the tough conditions these horses have come from. Some of Billinger's horses came from the Kiger Gorge of Oregon, where the horses mainly live in an environment of lava rock. For many others, the deserts of Nevada — which are considered the center of the wild horse kingdom — are the only landscape they've ever known.
When they're captured and brought to civilization, the oddest addition to their landscape is often the human standing in front of them. That can be the challenge of training a mustang, but certainly is the beauty of it, too.
"When I'm in the round pen with a mustang, it is like a canvas that hasn't been painted on," Branham said. "I consider it my responsibility to teach these horses what humans are.
"That's a big responsibility, but it's great," Branham says as she stands with her arms outstretched while the big pinto mare stands still and stares at her with eyes that glow red when the light strikes just right.
"All she really wants is somebody she can depend on so she doesn't have to be alone anymore."
Copyright 2018 The Lawrence Journal-World. All rights reserved. This material may not be published, broadcast, rewritten or redistributed. We strive to uphold our values for every story published.