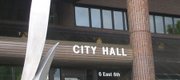 Subscribe to the email edition of Town Talk and we'll deliver you the latest city news and notes every weekday at noon.
News and notes from around town:
• 5,000 tons of sand per day. No, we're not talking about what I bring back in my swimming trunks following a visit to the beach. We're talking about a new proposal for a major sand plant operation between Lawrence and Eudora.
Bill Penny of Lawrence-based Penny's Concrete has plans to create a 351-acre sand pit operation adjacent to his sand dredging plant located along the Kansas River near the intersection of Noria Road and North 1500 Road.
Penny's, which operates about 24 concrete plants in eastern Kansas and western Missouri, has long had a dredging operating in the Kansas River about 1.5 miles northeast of the intersection of Noria Road and North 1500 Road (which is East 15th Street extended for all you city folks.)
But expanding a dredging operation is mighty difficult to do with all the various permits and potential objections from environmental groups. So, the trend in the sand business has been to do pit excavation of sand. Essentially, crews dig large pits to get the sand that is just below the surface of the ground.
Penny is proposing to dig an undetermined — as of now — number of pits on 350 acres of property between his current sand dredging operation and North 1500 Road.
According to a study presented to the Lawrence-Douglas County planning office, the operation would produce about 5,000 tons of sand on a normal operating day. It also would produce about 200 trucks entering and leaving the facility on a normal work day, which is expected to stretch from 6:30 a.m. to 6:30 p.m.
The project will need to ultimately receive a Conditional Use Permit from the Douglas County Commission before it can proceed. But first it will go through a hearing at the Lawrence-Douglas County Planning Commission. That hearing tentatively is set for the planning commission's Sept. 24 meeting.
County planners, though, are still gathering information about the proposal. Mary Miller, a planner with the Lawrence-Douglas County Planning Department, said she's requested an operational plan from the company, which will show in more detail how many pits are proposed and how the facility will function on a day-to-day basis.
"If you are a neighbor, it is kind of hard to know what you think about this until you know more about their operational plan," Miller said.
She said there are two residences adjacent to the 350 acre site.
Miller said the company also will need to submit a reclamation plan that shows what will happen to the land once sand excavation stops at the site many years down the road. Traditionally, sand pit areas have been converted into large ponds or small lakes.
Various county departments also are being asked to weigh in on the proposal, especially on the point of how additional truck traffic may affect the condition of the roads in the area. Parts of Noria Road, I believe, are in the city limits, so city officials may be asked to weigh in as well.
A traffic study conducted by a consultant hired by Penny's concludes the area roads can handle the additional traffic. The study is recommending a new right turn lane for eastbound traffic at the intersection of County Route 442 and County Route 1057.
A majority of the sand plant trucks will be traveling through that intersection to get on Kansas Highway 10. I believe the bulk of the sand from the proposed plant will go to Penny's concrete plant off of Kansas Highway 7 in Shawnee.
The traffic report is estimating the number of trucks operating during the morning and afternoon peak traffic hours will increase by about 40 trucks.
This proposal is another reminder that Douglas County is actually fairly sand rich. This is at least the third sand pit proposal in the last couple of years. There was a proposal by a Kansas City area company to construct a sand pit just outside of Eudora, which was fiercely opposed by Eudora officials over concerns the operation would disrupt valuable groundwater supplies.
The Manhattan-based company that purchased Lawrence-based LRM Concrete sought to build a sand pit project near Midland Junction in northern Douglas County. But that project was fiercely opposed by airport leaders who believed the operations would draw too many water fowl too close to the airport. Several environmentalists also expressed concern the operation would take up too much prime farm ground.
The Manhattan company has since moved its efforts to Jefferson County. My understanding is construction is under way on a sand pit operation on the north side of the Kansas River between Perry and Lecompton. It also is my understanding that Jefferson County is receiving a fee based on the amount of sand taken from the site to help compensate the county for additional road maintenance in the area.
It will be interesting to see how this plays out locally. The sand pit operation, it could be argued, will be bringing new money into Lawrence because the bulk of the sand will be paid for by Kansas City developers building projects in the metro area. But the site is on valuable farm ground, and that has been an issue in the past, plus traffic is often brought up as a concern in these matters.
• If folks don't like the idea of all those trucks, maybe they can haul the sand out of there via burros. I don't know how many burros it would take to haul 5,000 tons of sand, but I do know where you can get a start on creating a burro herd.
The U.S. Bureau of Land Management will hold a wild horse and burro adoption program on Thursday, Friday and Saturday at the Douglas County Fairgrounds.
The event will feature more than 50 horses and burros — both yearlings and adults — that once roamed free on public lands in the West. The Bureau of Land Management periodically removes the animals to maintain healthy herds and range lands.
It looks like there will be a competitive bidding process that begins on 2 p.m. on Thursday for folks who want to compete for the best of the lot. It then looks like there will be a first-come, first-served adoption of animals taking place on Thursday evening and again from 8 a.m. to 6 p.m. on Friday and from 8 a.m. to noon on Saturday.
There is a minimum $125 adoption fee. A professional horse trainer also will be on hand during the three days to provide tips on how to properly train animals that have roamed the wide open spaces of the West. In addition, two saddle-trained mustangs will be available for purchase. The auction for those two animals begins at 4 p.m. Friday.
People do have to meet some basic qualifications before they can adopt an animal. They mainly must be 18 or older, have no record of animal abuse and must have at least 400 square feet of properly equipped corral space.
• I have had several of you ask for updates on whether there really are serious plans to build a major indoor fieldhouse/recreation center in the Legends shopping development in Western Wyandotte County.
Interest in the topic is high, of course, because such a facility would be a formidable competitor to a similar facility being planned for the northeast corner of the South Lawrence Trafficway and Sixth Street.
Well, I can report there is nothing imminent in Wyandotte County. As we previously reported, there is a group that has been trying to convince the folks who own Sporting KC — which are connected to the folks who own the Cerner Corp. — to build a youth fieldhouse instead of a large outdoor soccer complex.
The Sporting KC folks had signed an agreement with Wyandotte County to build a major public recreation facility as part of the deal that allowed the professional soccer club to build a new stadium in the Legends complex.
The Kansas City area businessman, Bryan Hayes, never did a return a call to me seeking more information. But I did speak to a public relations officials with the Unified Government of Wyandotte County and Kansas City, Kan.
That official did say they were aware of some talk by outside parties who want to change the agreement to allow for an indoor fieldhouse rather than the outdoor soccer component. But he said the key point is that the original agreement for a soccer complex still stands.
"No modifications have been made to the agreement at this point," said Edwin Birch, public information officer with the Unified Government. "The soccer fields are still the main focus at the moment."
Following Wyandotte County developments is not my specialty, so I don't have a good read on what to make of this. My sense is that there is an effort under way by this Mr. Hayes, but I'm not sure he has the political clout to pull it off. I tried to talk to some officials a bit higher up the ladder in Wyandotte County government, but was unsuccessful. At some point, it will be interesting to see if the key leaders with Sporting KC/Cerner who brokered this deal have anything to say. I would guess they would have plenty of clout to pull off any number of things.
Copyright 2018 The Lawrence Journal-World. All rights reserved. This material may not be published, broadcast, rewritten or redistributed. We strive to uphold our values for every story published.